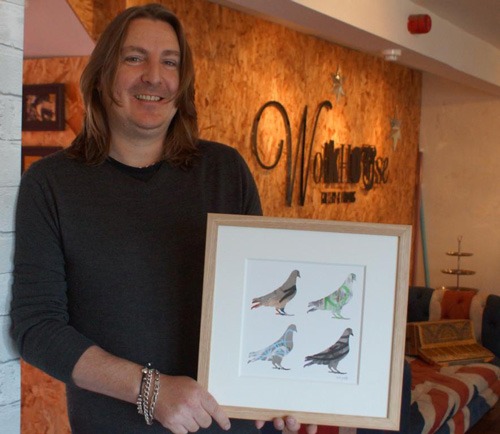 Lovers of modern art will have the chance to bolster their collection this weekend with the opening of a new gallery in Harrogate.
To celebrate its opening this weekend (September 15), The Workhouse Gallery, on Spa Lane, is giving away ten limited edition prints created by Leeds-born artist, Dan Syrett (pictured).
However, the ten prints in question will not be hanging on the walls of the gallery, but, instead, will be left in various locations around the spa town this coming Saturday.
The Workhouse Gallery is being opened by Jane Bruce, a life-long lover of modern art who is now turning her passion into a business.
At more than 2,500 sq m, the gallery is the town's largest private gallery, and will have enough wall and floor space to house more than 150 paintings, statues, rugs, plus vintage pieces of furniture from the 1950s and 1960s.
Jane said:

One of the aims of the gallery is to introduce modern art to a whole new audience.

We are going to be leaving these ten prints in various locations around Harrogate, with the hope they will be found by someone who wouldn't normally venture into a gallery.

Each of the prints have already been valued at between £100 and £150 each, the finder can, if they wish, come to the gallery to have it framed.

In addition to making modern art accessible, we are also making it affordable, with prices ranging from £30 to £5,000.

The Workhouse Gallery will offer a real alternative to the 'sheep and landscape' canvasses so prevalent in many of the local galleries. Hopefully it will stop people from feeling the need they have to travel to London in order to expand their collections.
Jane's gallery will also offer framing, as she acquired an already established framing business – Artblock – employing two people.