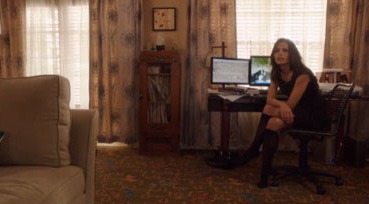 Harrogate – James Brindley fabric is featured in the revival of '80s soap 'Dallas' that premièred on our TV screens on Wednesday 5 Sept.
With the familiar faces of the likes of Bobby, Sue Ellen and JR, this legendary drama has been revived for a new generation. Fresh rivalry between JR's son John Ross Ewing and Christopher Ewing, adopted son of Bobby, pushes the family feud forward into the 21st Century.
Away from the Southfork Ranch, its John Ross's girlfriend, Elena, who has the impeccable taste for quality British interiors. During a scene with John Ross, Elena's home office windows can be seen attractively dressed with full length bespoke curtains made from Brindley's 'Opulence Flower' fabric in Aqua Stone.
James Brindley Managing Director, Simon Grafton said:

It was my wife who spotted them, they were sourced through our Dallas distributor, Alan Knight & Associates.

'Opulence Flower' lives up to its name and suits the oil-rich Dallas lifestyle perfectly. Like the programme, this luxurious silk fabric is big, bold and beautiful, perfect for large windows like in Elena's impressive office.

The striking design is based on the Agapantha flower and the mix of hand printing and embroidery results in a stunning effect, available in nine fashionable colour ways.
With the opening episode watched by almost 3 million viewers, Dallas could become the best TV revival since Doctor Who.