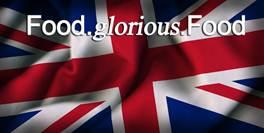 Carol Vorderman is to host ITV's brand new show Food.glorious. Food.
The programme due to be broadcast on the channel in 2013, will scour the country for Britain's best loved recipe with the winning dish earning a place on the shelves of Marks & Spencer.
Carol will be joined by an expert team of Judges who will each be looking for that certain culinary something that's not just good, not just great but glorious.   The panel comprises of Vice Chairwoman of the WI, Anne Harrison; food connoisseur Loyd Grossman; the beehive baker Stacie Stewart and food writer and editor Tom Parker Bowles.
Carol said:

I've long said that Great Britain has some of the best home cooked recipes in the world.  Food Glorious Food is set to discover that unsung culinary talent and be it cream teas in Cornwall or parkin from Yorkshire, I can't wait to get on the road to see the best of what the UK has to offer.
The panel will travel the country in search of the very best home cooked recipes. The competition will be open to everyone and the nation will watch – with open mouths and rumbling tummies – as favourite dishes, bursting with family history and nostalgia as well as wonderful ingredients and flavours, battle it out in huge tasting sessions for the chance to win a major cash prize and an opportunity to cook for the country. At the end of the series one very special dish will be available to buy at M & S stores across the country, the day after the results are announced (all profits going to charity).
Each member of the panel will bring a different set of skills and experience to the competition which will be reflected in what they will be looking for in a winner.  Dairy farmer's wife Anne has been a member of the WI for 46 years and has been judging home cooking for 30.  She is the 'judge's judge' and has travelled the county judging WI scones, pies and jams.  Anne comes armed with the WI handbook and even has a tape measure for measuring the height of scones.
Food. Glorious. Food. Is made by the producers of The X Factor and Britain's Got Talent, Syco TV and Optomen, producers of Two Fat Ladies, The Naked Chef and The Great British Menu. The heats start in Devon on September 1 then the team move on to Sussex, Yorkshire and Worcestershire (please see dates below).
Simon Cowell added:

I love home cooking, which is one of the reasons I wanted to make this show. No one can make roast potatoes like my Mum and I'm sure lots of people feel the same way about their family recipes.

This is not a show for snobs. This is giving someone a chance to have their recipe sold in a Marks & Spencer store.
Food. Glorious. Food will visit The Harrogate Flower Shows, Great Yorkshire Showground, Harrogate, North Yorkshire on September 15 and 16
Anyone can apply by going to www.itv.com/beontv