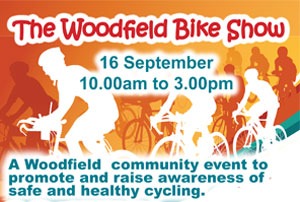 The Butler playing field in the Woodfield Ward of Harrogate is host to a special bike event on Sunday, 16 September 2012 to hear about the benefits of cycling for leisure and health and also how to keep bikes safe and secure.
It doesn't matter if you are a downhiller or a road racer or someone who still has their sit up and beg bicycle to go to the shops on, there will be something for all the family at the event being held between 10.00 am and 3.00 pm on Woodfield playing field.
There will be workshops on basic cycle maintenance, advice on how to keep bikes safe, where to buy bikes, or recycle old ones, as well as details about where to cycle in the Harrogate district on routes that are safe and fun. And there'll be all the latest on cycling trends.
Local PCSO James Skaith said:

I normally do a couple of bike marking events each year in the ward but when the My Neighbourhood Project was launched, many residents told us they were interested in cycling so I thought it would be a good idea to put on a special bike event.

I approached a number of bike shops, clubs, charities and Harrogate Borough Council and North Yorkshire County Council who have all helped in bringing the show together. We will be demonstrating the benefits cycling can bring and also making sure that people can cycle safely as well as keep their bikes and sheds safe from theft.
The programme for the day includes:
· Guided bike ride for the whole family – bring your helmets
· Free bike marking – hi viz security stickers applied by Police
· Discounted bike security chipping
· Halfords, Boneshakers and Specialised Concept Store will be offering advice on buying a bike
· Getting the most from your bike by looking after it properly – Pete from Psychiosport will be doing maintenance and repair demonstrations
· Proficiency demonstrations
· Cycling for people with disabilities
· Recycle bike charity – Rotary Club
· North Yorkshire Youth Service
· Getting on your bike with Wheel Easy Cycling Club
· Neighbourhood Watch