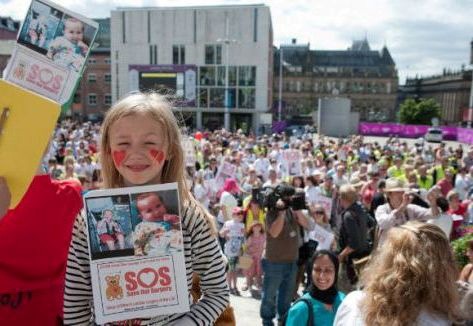 On a day dedicated to celebrating excellence in the region, Yorkshire Day (1 August), the Children's Heart Surgery Fund (Registered Charity Number 700753 and 1148359) is fighting to retain the children's heart surgery unit in Yorkshire and is urging businesses to back their campaign to launch a legal challenge against the decision which could see surgery at this unit close. One of the charity's main activities is to support children with congenital heart conditions and their families at the children's heart unit at Leeds General Infirmary (LGI)).
To help fund a legal challenge of the decision, the Children's Heart Surgery Fund is launching a Fighting Fund (as well as continuing its existing charitable activities), which is aiming to raise funds to cover the costs of this legal challenge. Businesses are being encouraged to support the Fighting Fund by pledging money to safeguard the service at the unit which has received gold standard accreditations for its standards of care.
The charity is currently working with professionals to investigate what case the Leeds unit may have to fight the decision through the judicial review process. Public outcry since the decision was made on 4 July has been unprecedented with almost 3,000 people attending a peaceful demonstration held on 23 July in Leeds.
Children's Heart Surgery Fund Director, Sharon Cheng, said:

This decision is not something we are prepared to accept and will continue to fight the decision on behalf of our parents, patients and staff. We are currently appealing to ministers to overturn this decision but if this is rejected we have no option than to seek a judicial review. As potentially the last option open to parents we feel we have to try.

We are launching the Fighting Fund to coincide with Yorkshire Day as we truly feel the voices of the Yorkshire people have been ignored. We are appealing to all businesses in the region to follow in the footsteps of Lincolnshire County Council who are pledging £5,000. Any surplus raised will go back into the charity to support its existing charitable activities.
Last year more than 600,000 people from across Yorkshire, the Humber and Lincolnshire signed a petition supporting the children's heart unit at the LGI, which provides life-saving surgery to hundreds of children in Yorkshire and the Humber and beyond, annually.
The campaign has continued to receive cross party political support from MPs who have already begun leading the debate in the House of Commons.