Yorkshire's oldest family-run brewery has entered into an exclusive deal with Tesco Supermarkets.
T&R Theakston's Masham Glory will be on the shelves of more than 450 stores nationwide, which is the first time the Masham-based brewery – best known for its Theakston's Old Peculier and Theakston's XB – has struck an exclusivity deal with the world's third largest supermarket chain.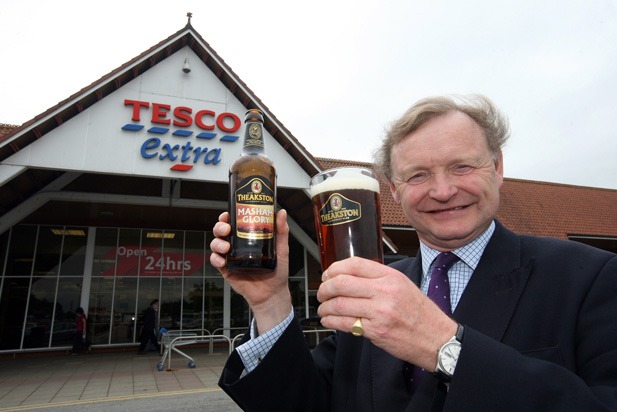 The agreement comes on the back of unexpected sales figures for Tesco, which found a surprise upturn in sales of ale in the two days before Christmas. It sold 500,000 bottles in that time – 65 per cent more than at the same time the previous year.
To promote the move, customers at the Stirling Road store in York were given the opportunity to sample not only Masham Glory but also a number of other Theakston favourites stocked by the supermarket group.
Simon Theakston, Executive Director of T&R Theakston Ltd, said:

This is very exciting news for Theakston's and we will certainly be raising a glass to this deal.

Our beers are amongst the finest in the world and are exported to many different countries – including many in the Commonwealth.

Tesco has recognised this quality and it wants to capitalise on the growing demand for real ale.

I'm also delighted to say that, in a separate move, Tesco will also be stocking our Hogshead beer. This is very pleasing for both us and Tesco's real ale drinking customers.
Masham Glory, which is a smooth and full-bodied beer, has an ABV of 4.7 per cent.