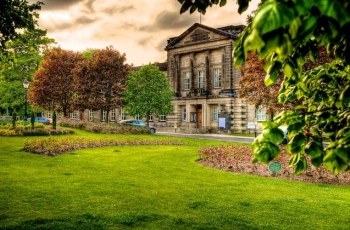 There is £30,000 of funding available for local voluntary groups and community organisations as the sixth round of a council-funded 'Community Chest' opens up for nominations.
Harrogate Borough Council first awarded grants from the Community Chest in 2007 as part of its plans to increase support for the voluntary and community sectors. The closing date for applications this year is 24 September 2012.
Councillor Ivor Fox, Cabinet Member for Resources, explained that the purpose of this grant fund is to strengthen small voluntary organisations, charities and community groups in the district.
Councillor Ivor Fox added:

We want to provide support for activities and projects that will benefit local communities within the whole district.

The grant fund was initially set up in response to feedback from voluntary and community sector organisations who told the council that a small grants fund would be valuable to them. I am delighted that we have been able to provide this sixth round of funding.
The Community Chest grants range from £500 to £3000 and applications are welcome from voluntary organisations, charities and community groups based in and serving the community of the Harrogate district who have a maximum income of £50,000 a year.
Application forms and guidance notes are available from www.harrogate.gov.uk/voluntary. The closing date is noon on 24 September 2012. All applications will be considered in October.
In 2011, the following Community Chest Grants were awarded:
£1,000 Sport Nidderdale
£2,500 23rd Harrogate Hookstone Scout Group
£1,000 Starbeck Gala/Christmas Lights Committee
£1,500 Norwood Social Hall Committee
£ 816 Beckwithshaw Village Hall Disabled Access Improvements
£2,000 Knaresborough Festival of Entertainment and Visual Art
£1,200 Hartwith Heritage Group
£3,000 Hampsthwaite Feast
£2,000 Kirkby Lions Junior Football Club
£2,000 Woodfield Millennium Trust
£ 950 Harrogate District Cricket Development Group
£1,550 Christ Church Darley Community Library
£1,635 Ouseburn Cricket Club
£ 200 Bachelors Field Friends' Group
£1100 Nidderdale Community Orchestra
£ 850 Masham Sports' Association
£2,023 Swinton Court Good Neighbour Tenants and Residents' Association