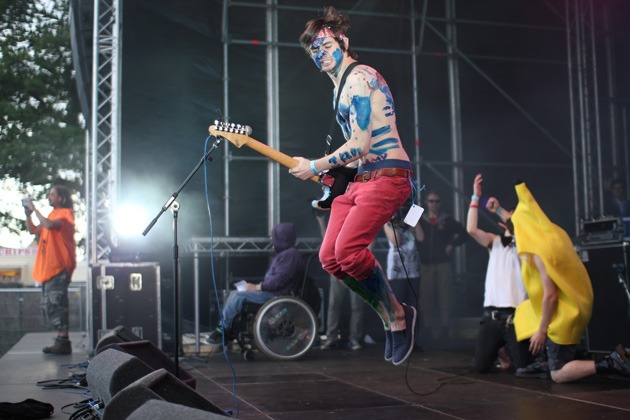 Families and residents across North Yorkshire are invited to kickstart CultureShock, the country's largest four-day greenfield youth festival, with a Big Dance and a Proms performance next week.
Produced by the county council's Youth Support Service, CultureShock runs over four days from Wednesday 20th June to Saturday 23rd at the Yorkshire Events Centre, Harrogate and includes six main events: three schools days targeting 800 school students each day; the Big Dance evening on Thursday with dance performances from across the region, a Proms on Friday and the main festival event on Saturday. Hundreds will camp overnight on Friday and Saturday under supervision.
Big Dance on Thursday celebrates youth and community dance from across North Yorkshire and is designed to get the whole audience involved. Produced by Yorkshire Dance, the evening is part of the national Big Dance initiative, the UK's biggest celebration of dance as part of the London 2012 Festival, the culmination of the Cultural Olympiad.
Highlights will include performances from North Yorkshire Youth Dance Company, Keira Dance, Distortion (all male youth dance group from Colburn) and St Aidans Boys Dance group. As well as being able to watch the dancers people will have the chance to join in during a mass dance at the end of the event.
The CultureShock Proms will run on Friday at 7pm and will include performances of Classical music from orchestras and ensembles from a number of the county's schools. Performers include Boroughbridge High School Choir; Ripon Grammar Schools Horn Blower Brass Band; BoroughbridgeHigh School Swing Band; St John Fisher School Junior Jazz Ensemble; Harrogate Grammar School Jazz Band and Selby Music Centre Big Band.
Over 3000 young people are expected to attend the main event which includes a Main Stage, the Urban Stage, the Tipi stage, the new open mic Shed Stage and on the 6k Vision Stage. There is also the FutureShock stage which showcases up and coming acts. Headline acts include the band Rosie and DJ duo The Cut Up Boys.
Young people can also enjoy the skate park, bungee trampoline, climbing wall, theatre tent, photo booth, rodeo bull, and visit the Big Top to watch top quality dance performances.
As well as performance opportunities, CultureShock offers a huge variety of workshops for people to take part in from digital animation to didgeridoo and the unicycle have-a-go course
Tickets cost £1 for the Big Dance and The Proms events
Tickets are available at £8 on the gate for the main event on Saturday or from the CultureShock website www.cultureshockfestival.co.uk
See other Harrogate Events