With just 24 hours left before registration closes people wanting to take part in a unique charity event this summer are being urged to secure their place today to avoid missing out.
Hundreds of local people have already signed up for the Midnight Walk, to be held on Saturday June 30, but organisers at Saint Michael's in Harrogate are urging those who haven't yet registered to step forward before the Friday June 15 deadline.
The event, which is supported by Engage Mutual, is a quarter marathon walk aimed at raising vital funds for Saint Michael's, the charity that helps families across the district living with terminal illness and bereavement.
Chief Executive of Saint Michael's, Tony Collins, said:

The Midnight Walk is our flagship fundraising event and we're delighted that once again our loyal supporters are throwing their weight behind the cause.

However, we really do need as many people as possible to sign up and we're urging everyone in the Harrogate district to register, come along and have a great time.

We need all the support we can get in our mission to care for people in the area who are dealing with terminal illness and bereavement, so please think about signing up with your friends and family or as a team with work colleagues and associates.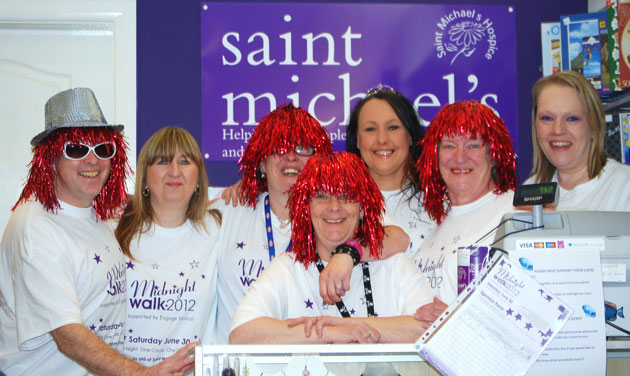 Jennyfield Gems team
A group who have done just that is the Jennyfield Gems team – a group of volunteers and supporters from Saint Michael's shop at Jennyfields Drive, Harrogate.
Saint Michael's retail fundraiser and leader of the Jennyfield Gems team, Mags Kent, said:
The Jennyfield's community have really taken us into their hearts since the shop opened 18 months ago.
If you'd like to take part in the Midnight Walk but don't have anyone to walk with, why not join our team?
Anyone is welcome to join us, the Midnight Walk atmosphere is amazing but it's a long way to walk on your own.
Just add the Jennyfield Gems as your team name when you sign up to walk with us.
It'll be a fantastic night with the entire community coming together in the name of an incredibly worthy cause.
Saint Michael's cares for more than 2,400 local people a year through inpatient care, day therapy, lymphoedema support, bereavement support, respite care and specialist support for people in their own homes.
It costs £3.9million each year to maintain these vital services, and, with more than 80 percent of this figure raised through the community, events like the Midnight Walk are vital to allow the charity to continue its work.
The quarter marathon sponsored walk starts and ends at the Yorkshire Events Centre, on Wetherby Road. It is suitable for all ages and abilities and it costs just £12 to register.
Secure your place today by visiting www.midnight-walk.org
Alternatively paper registration forms are available from any Saint Michael's shop or by calling the Hospice on (01423) 879 687
See other Harrogate Events