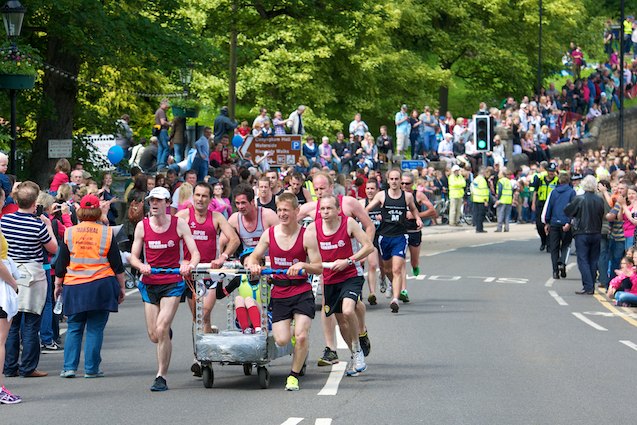 It was a terrific day made all the more remarkable by the absence of rain when all around were inundated. Boroughbridge and York flooded and there was a heavy downpour at Pateley Bridge which brought increased flows to the Nidd, but not until Saturday evening. The river crossing went ahead, for the teams and many of the spectators the most looked forward to part of the Race.
A double win for Ripon with Ripon Runners being the fastest team, regaining their trophy last won in 2010; while Ripon Runners for Girls finally broke the 12-year winning streak of HPL Flyers by capturing the fastest female team trophy.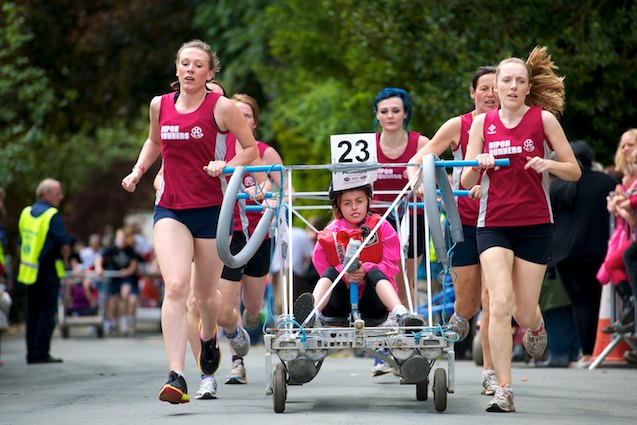 The performance of Piccadilly Men, actually a junior male team of 16 year-olds and younger in coming 17th overall and winning the junior male trophy was a fantastic achievement. It was the team's second successive win but were mostly new runners, last year's team being now too old for this category.
Another second successive win went to the Lido Loonies in the Best Dressed Bed competition for their take on Belgium – the Smurfs. Nearly all of the entrants to the fancy dress part of the pageant were very good indeed and hugely entertained the crowd. Winner of the Most Entertaining Team award went to Humberston Lions and their Ninja interpretation of Japan.
Even though the weather gods smiled on the race, as so often before, the race times for the teams were all considerably slower than on previous occasions, a reflection for the most part of the challenging crossing of the River Nidd.
For the past number of years winning times have been around 14-minutes, while the slowest still manage to get in under half an hour. On Saturday, the quickest teams were nearer or over 15 minutes and more than a few teams took longer than 40 minutes to complete the course.
The final amount raised wont be known for some months, but organisers are expecting to exceeded last year's estimate of £90,000 plus raised for charity. Visitors in town would not have been far off the 25,000 in 2011.
The event is all-volunteer run and the majority of the funds raised go to local charities and good causes.
Nigel Perry of Knaresborough Lion's said:

Knaresborough Lions would like to thank all teams for taking part, all team marshals for giving us such great support, our commercial sponsors and advertisiers for making the staging of the event possible and all the crowds for coming to see what is considered to be the most spectacular community event held in the North of England.