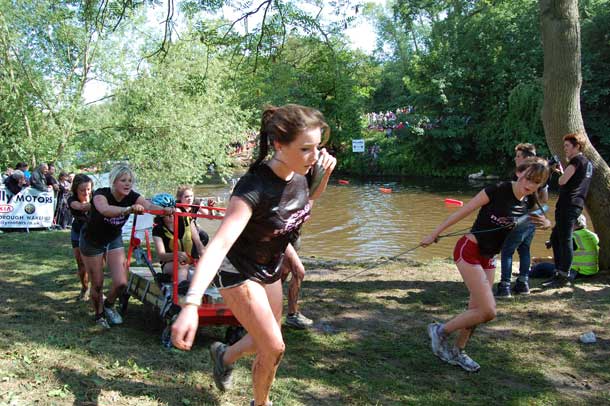 The stage is set for the 2012 Great Knaresborough Bed Race, the 47th version of this annual event first held in 1966. The maximum field of 90 beds will gather at Knaresborough Castle to be decorated in the theme of the year – 'Olympic Nations'.
At 1 pm the Parade will start down through the High Street and Bond End and into the grounds of Conyngham Hall, where the decorations and fancy dress will come off and the Race itself will begin. Teams set off at five second intervals through Conyngham and onto Waterside, through the Nidd Gorge and up the very steep Castle Ings climb to the Marketplace. Then it is down the High Street across the bridge and through the parkland of McIntosh Field. The final act is a 16-metre swim across the Nidd for all six runners and the passenger, before slithering up the bank to the finish line.
The course is about 2.4 miles long and the fastest teams do it in just over 14 minutes; the slowest in about twice that time. There are awards for the fastest team and the fastest female team, mixed team and new team, as well as for fastest junior male and female teams.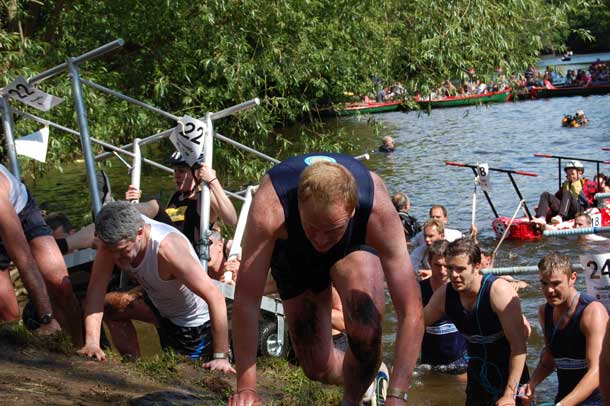 The Great Knaresborough Bed Race has spawned similar events in Germany, the USA and elsewhere in the UK, but due to the peculiarities of the medieval market town in North Yorkshire nothing else quite matches Knaresborough's race for its riot of colour and pageantry, the courage and endurance of its teams, and the glorious eccentricity of its entrants.
The event is all-volunteer run and is staged to raise funds for good causes. Between the organisers the Knaresborough Lions, the teams and other voluntary groups it is believed that 90,000 to 100,000 was raised in 2011.
Apart from the 630 racers and passengers, another 200 people take part in the Parade. There are 250 volunteers who help marshal, put out parking cones and manage the traffic and 25,000 folk come to Knaresborough to watch.