Harrogate International Festivals has announced a new title sponsor for its inaugural literature festival.
The Raworths Literary and Lecture Series sees one of Harrogate's longest established businesses partnering with the iconic national arts organisation to showcase world leading authors this July.
Bestseller Victoria Hislop, Dickens' biographer, Claire Tomalin and one of Britain's best known authors, Sue Townsend, headline the new event.
Christopher Butterworth, senior partner at Raworths
Christopher Butterworth, senior partner at Raworths said:

We are delighted to sponsor this exciting new arts event for Harrogate. We're celebrating 125 years in business this year and this is one way to demonstrate our loyalty and commitment to Harrogate. We believe it's important to support the town as an important destination for business and the Arts.
Harrogate has almost half a century of bringing the finest international acts to Yorkshire and is home to one of the oldest Festivals in the UK. The first Harrogate Festival was launched in 1966 by three Harrogate music lovers, Clive Wilson, Tony Kent and Alan Bottomley, who wanted to create an international musical event for the district.
For over 40 years music has remained at the heart of the Festival's activities but it has embraced innovative strands over the years to attract wider audiences and become one of the UK's leading arts organisations.
Sharon Canavar, CEO of Harrogate International Festivals, said:

A bespoke literature festival is the perfect fit for Harrogate. Raworths and the Festival are both long-standing established organisations but we're also both pioneers in our fields. I think this new partnership reflects that. It provides a great environment for Raworths to celebrate their 125 years in Harrogate.
The success of business and the arts joining forces has been demonstrated by the huge success of the Theakstons Old Peculier Crime Writing Festival. Arts sponsorship is an increasingly attractive option for businesses. Last year the Festival gained print media coverage for Harrogate in excess of £3m and generated an economic impact of £4.1m.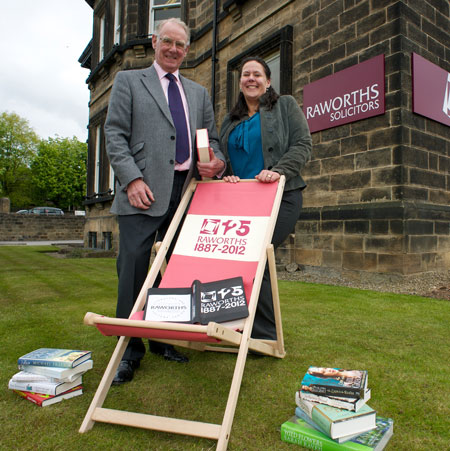 Christopher Butterworth, senior partner at Raworths with Sharon Canavar, CEO of Harrogate International Festivals
Sharon added:

We've always been an outward looking and innovative arts organisation. Our big attractions help us do important year-round community and outreach work.
The whole town will be coming alive with festival activities this July. Outdoor theatre collective Oddsocks will be performing Julius Caesar in the enchanting RHS Gardens, whilst an outdoor Big Screen will be showing the very best of British cinema as part of the Movies on Montpellier film programme. The legendary Spiegeltent will also be coming to Harrogate for the second time, following appearances at the Edinburgh and Melbourne Festivals. There will also be an extensive programme of children's and family events.
Christopher Butterworth of Raworths said:

It's a happy association helping to put Harrogate on the cultural map and to fly the flag for Harrogate's business and arts community and to be part of Yorkshire's most prestigious event of the year.
Other authors scheduled to appear include Noises Off playwright and novelist Michael Frayn, Grumpy Ole Men's John O'Farrell, British Book Awards winner Kate Summerscale, cook, gardener and broadcaster, Sarah Raven, and the Man Booker Prize shortlisted Jon McGregor.
For full programme details please visit: www.harrogateinternationalfestivals.com