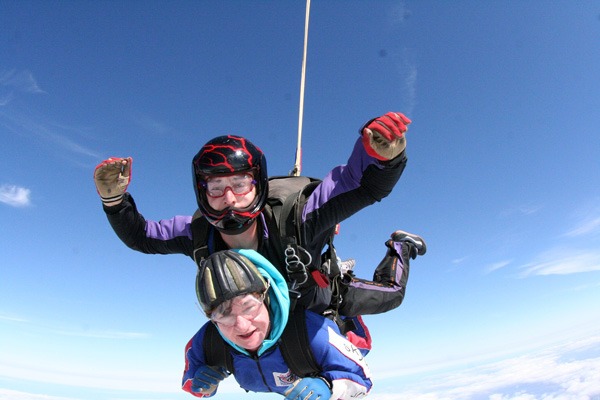 A 60-year-old librarian from Knaresborough proves the sky's the limit when it comes to smashing stereotypes after signing up for a parachute jump in aid of Age UK Yorkshire.
Helen Westmancoat of Park Way, Knaresborough, works for York St John University Library. She had the novel idea to raise funds to mark a milestone year after turning 60 on 3 May. The charity jump takes place on 16 June at Hibaldstow in Lincolnshire.
Helen said:
I got the opportunity to do a jump last year in support of the university's student support fund, SPARK, just to prove that librarians can do exciting things and enjoyed it so much I wanted to have another go. My husband says go for it if you enjoy it, although my son's not quite so sure, I think he thinks his mum is a little mad to want to do it!
Jumping out of planes may not be the usual activity for someone whose hobbies include walking, reading, going to the theatre and craft work.
Helen added: "I chose Age UK because I am 60 this year so it seemed like a good choice because of the work the charity does for older people. My mother is 93 and has benefitted from help from Age UK."
To support Age UK contact: 01423 530628
visit www.ageuk.org.uk/northyorkshire
Follow #freefalllibrarian to follow Helen on Twitter.