Prospective AirAsia Renault UK Clio Cup racer Tom Blackmore made a major impression on leading team Total Control Racing at Mallory Park yesterday, Wednesday, 2nd May, with a star performance on his racing car test debut.
The 21-year-old, from Harrogate in North Yorkshire, joined the multiple championship winning squad at the Leicestershire track for his first taste of a 2.0-litre Clio and made an instantaneous impact with a highly competitive run in dry conditions.
Although still working to secure the budget to graduate into car racing, the newcomer – who only has very limited karting experience to draw on – showcased his natural ability superbly. So strong was the performance, TCR team principal Lee Brookes drew distinct comparisons with the Clio Cup test debuts of former category champions Jonathan Adam and Tom Onslow-Cole.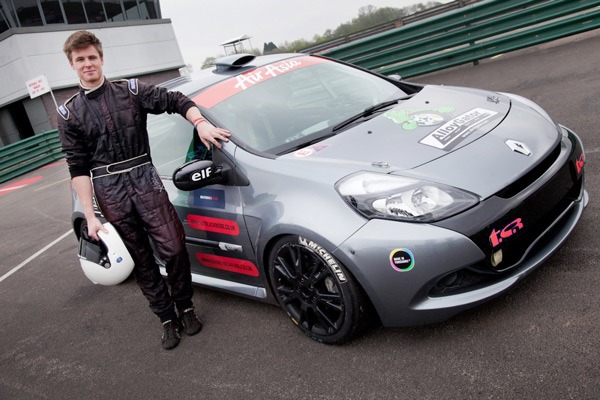 Tom Blackmore at Mallory Park Clio Test 
Brookes said: 
Tom did a mega job.

He really was very impressive, even more so considering it was his first ever test. His pace was fantastic and he was actually on a par with the likes of Jonny [Adam] and Tom [Onslow-Cole] when we first tested them.

He's got a lot of natural ability and we're hopeful he'll be able to raise the budget to make his race debut with us in Clios at some point soon.

They're not easy cars to instantly be quick in, especially for a driver with so little karting experience. On the evidence of yesterday's run with us, Tom is a really strong prospect.
Blackmore's only real competitive karting experience came at club level, due to budget limitations, and for the last four years he hasn't raced anything at all. Instead, he focused on his university degree in Business Management but with his education now completed the Yorkshireman is aiming to reignite his motorsport career.
Blackmore said:
Mallory was the first time I've ever been in a car on a track, it was absolutely fantastic – brilliant really and the car was great to drive

Everyone at TCR seemed to be pretty happy with my performance so I was really pleased with that.

We've always been restricted by budget so the only real karting I ever did was at club level, the odd few races here and there. The original plan we had was to test as much as possible this year ready for 2013.

If we can raise the money this year though, especially off the back of this test, we'll try and do a couple of rounds if we can.
Next on the agenda for Total Control Racing will be rounds seven and eight of the 2012 AirAsia Renault UK Clio Cup on 9th/10th June at Oulton Park in Cheshire, with regular drivers Rob Smith and Nicolas Hamilton. The team's Total Quartz Ginetta GT5 Challenge squad will be in action on the same weekend at Rockingham in Northamptonshire with series front-runner Mike Robinson.