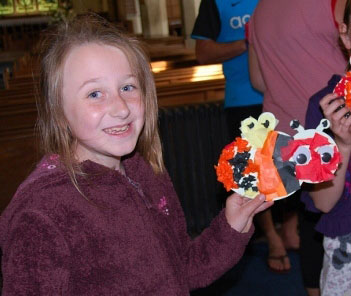 The Yorkshire Dales will be buzzing this year with a collection of more than 130 events, each one celebrating wildflowers in all their glory.
The 2012 'Flowers of the Dales Festival' is a programme of more than 130 events taking place across the Yorkshire Dales from March until November. Events include guided walks, photography courses, cookery and craft events, children's activities, bat walks and bumblebee talks, to name just a few. Many of the events offer a free day out for all the family and often a chance to learn something new. Locals and visitors alike are encouraged to get involved.
The events are run by a wide range of organisations and individuals, each an expert in their field, and offer a great insight into wildflower habitats. The Clapham–based charity Yorkshire Dales Millennium Trust (YDMT) is co-ordinating the Festival to bring together this series of fun and informative events designed to encourage people to explore and enjoy the Dales landscape and the glorious range of wildflower species which thrive here.
Through the Festival, over 10,000 people have attended wildflower-inspired events since Flowers of the Dales was born in 2009. In the last year along, more than 5,000 people took part, highlighting the growing success and popularity of the Festival. It is hoped that 2012 will be even bigger and better.
Tanya St. Pierre, Flowers of the Dales Project Officer at YDMT, commented:
Here at the Yorkshire Dales Millennium Trust, the Festival is one of our proudest achievements, encouraging thousands of people every year to get out and about in the glorious Dales landscape and appreciate the beautiful wildflowers. Our aim is to promote local events and organisations and to provide enjoyable activities that are accessible to everyone.

With so many great events taking place in the Dales each year, it's a big job to pull them all together to create the Festival, and we are very grateful to our partner organisations for helping us achieve this. The 2012 Festival would not have been possible without the kind and generous donations of the W. W. Spooner Charitable Trust, Natural England, Yorkshire Dales Society, Yorkshire Dales National Park Authority, Yoredale Natural History Society and the People's Postcode Lottery, so thank you! We would also like to pay a special tribute to Mr Reynolds whose generous gift to us in his Will helped make this year's Flowers of the Dales Festival possible.
One of the many highlights of the Festival is a spring flower themed choral concert performed by St Paulinus Choir of Ripon, including pieces by Bach, Schubert, Britten and Handel (arr Gritton).
The concert takes place on Saturday 19th May in Clapham Church. Tickets are on sale now in aid of YDMT – please call 015242 51002 for full details.
The full Festival programme is available online now – got to www.ydmt.org and click on Resources. Or to receive a copy by post please send an A5 stamped self-addressed envelope (36p postage) to Flowers of the Dales Festival, YDMT, Old Post Office, Main Street, Clapham LA2 8DP. Free copies of the programme will also be available from visitor centres in the area in the coming weeks.
Places are limited at some events, so please book early to avoid disappointment.