North Yorkshire's latest initiative to boost take-up as well as improve the quality of rural broadband, has been welcomed by Caroline Spelman, the Secretary of State for Environment, Food and Rural Affairs, who visited the county today.
The Environment Secretary stopped off at Oakwood Park Business Centre in Bishop Thornton near Harrogate, for the launch of Go ON North Yorkshire, which is part of a national campaign to promote take-up of internet and online services..
Caroline Spelman's visit comes at a time when North Yorkshire is forging ahead in its effort to break down barriers to rural economic growth by supporting the county's business community and residents.
Go ON North Yorkshire is a long term campaign to get more people online as well as increase the use of the internet for those already connected and is part of the wider work of Connecting North Yorkshire to bring high quality broadband to everyone.
Connecting North Yorkshire is a multi-million pound pioneering programme led by the county council, working with a range of partners including NYNet, its broadband company. This approach is a national first and is supported by Broadband Delivery UK and Defra who are using the experience to develop a model approach to raising awareness and demand for broadband.
Connecting North Yorkshire has already led to the setting up of Smart Parks, which are business centres for small to medium enterprises equipped with super-fast broadband. Oakwood, for example, has become a highly successful Smart Park.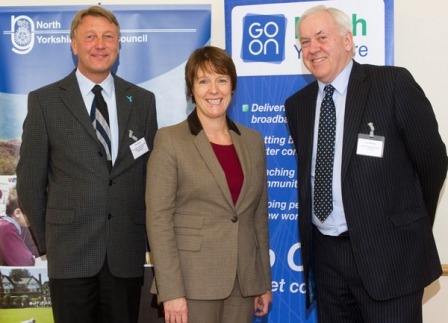 Caroline Spelman, the Secretary of State for Environment, Food and Rural Affairs with (left) Barry Dodd, chairman of the York, North Yorkshire & East Riding Local Enterprise Partnership and County Councillor John Weighell, leader of North Yorkshire County Council  
County councillor John Weighell, North Yorkshire's leader said:
We are the largest rural county in the country but we are determined through these campaigns to place ourselves at the forefront of rural enterprise. We are determined to maintain thriving, entrepreneurial communities which provide exciting opportunities for our working population.
Caroline Spelman praised the pioneering work by business partners and the county council to establish high-speed broadband for all of North Yorkshire's businesses and residents within five years. Her visit highlights the Government's £530 million investment in rural broadband which nationally will help bring standard broadband to all and superfast broadband to 90 per cent of premises.
The Go ON North Yorkshire campaign is essential for raising the level of demand for superfast broadband in the county, which will stimulate private sector investment and help the Government's funding go further.
Caroline Spelman said:
Getting superfast broadband to rural areas in North Yorkshire will make a vast difference to local people and businesses and how they communicate with the online world. The business centre in Bishop Thornton is a perfect example of how access to broadband can transform Yorkshire businesses.

We're investing £165m to unlock the economic potential of rural areas – and devoting £20m to get broadband to the remotest areas.
North Yorkshire's economy is almost entirely made up of small to medium enterprises and the county council along with business leaders is determined to enable companies to thrive in rural areas as easily as in neighbouring cities but with better networks, support and a better environment.
For this reason North Yorkshire's Local Enterprise Partnership has also made a Rural Network Bid to Defra to establish a vibrant network of Enterprise Hubs developed by local business communities that will lead to hundreds of new jobs and enterprises by 2015.
Barry Dodd, chairman of the York, North Yorkshire & East Riding Local Enterprise Partnership said:
Businesses consistently tell us that access to broadband is one of the major barriers to growth. That is why the Local Enterprise Partnership is working with this programme to make the most of the business benefits. This type of good quality internet access is also central to our bid to Government for a Rural Growth Network.