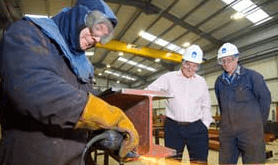 KPMG LLP were appointed as joint administrators of Houseman & Falshaw Limited on 12 December 2011.
Houseman & Falshaw are based in Harrogate and were established in 1979 as a Construction Design and Build specialist. The business was formed by Stuart Falshaw and Robin Houseman and had previously developed a turnover of over £10M per annum.
They operate a 8,000 sq ft steel fabrication plant on Jubilee Court, Copgrove.
The doors close for the last time tonight (21 December 2011) and it is understood that up to 70 people will lose their jobs.