Local home care company Home Instead Senior Care Harrogate, Ripon and Thirsk and their army of dedicated carers are busy delivering mince pies to all their clients in the run up to Christmas. The mince pies are all boxed up and ready to go to give as a seasonal treat.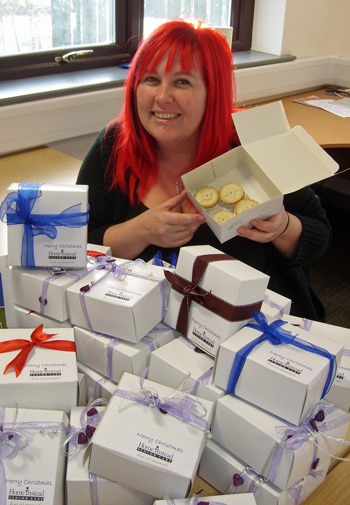 Care Co-ordinator Sarah Crawford
Sheena Van Parys, owner of Home Instead Senior Care commented:
We cover quite a large rural area in North Yorkshire but our carers have been very busy making sure that every one of our clients receives a box of mince pies. It is especially important at this time of year that those who are more frail and vulnerable are not forgotten about in the hustle and bustle of the festive period. Many older people living on their own do not have relatives nearby so this time of year can be very lonely for them. At Home Instead Senior Care we have a dedicated, compassionate professional team of carers who will continue to support our clients on Christmas Day and for the rest of the Christmas and New Year period even if it snows!
Home Instead Senior Care allows older people to continue living in their own homes. Its help ranges from companionship, meal preparation, light housekeeping, post-discharge care, personal care, medication reminders, shopping and errands. The service is available 24 hours a day, seven days a week.