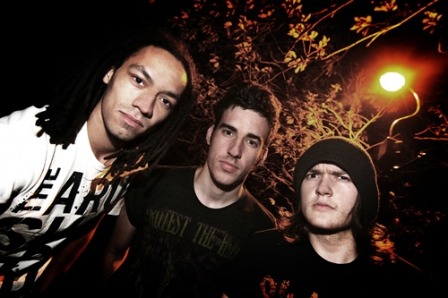 The Book of Job are playing a comeback show at Monteys Rock Café in Harrogate on the 11th Dec, with main support from Waking Theo (Harrogate metal giants) and When Manatees Attack (a competitor in this years AMP awards competition)
It is their first show around 6 months, having taken a break to write for their début album. In January the band are travelling to Parma in Italy to record the album, making this gig a send-off gig for the guys.
The band has been together under the current name for 5 years now, with Kaya Tarsus on lead vocals,  Michael Liburd on Lead Guitar and  Luke Nelson on Drums. They have also been searching for a new bass player and now have Chris Norris who is currently learning the songs songs for touring after the Italy trip. He'll be showcasing his talents at the show at Monteys.
Luke said:
In our songs we cover various genres from the music industry, whilst the main heading for our music would be "Metal" we utilise Beatles style harmonies and various progressive techniques including tempo, time signiture and key changes.

We like to incorporate a nice groovy feel to our songs even though they may predominantly hard on the average X-factor followers ears!

We have played up and down the country playing dives mostly! Although thanks the Marrian Farrar's Amp Awards competition we have had the opportunity to play venues such as the Harrogate International Centre, The Royal Hall and most notably the Leeds o2 Academy, this is probably our most loved show ever!

We like to fool around and we love what we do. When these traits are combined only chaos is left in our wake!
This is a video from the recent amp awards finals held at the o2 Academy Leeds
The song is called Anagnorisis and the video was put together by Itchykoo Image.