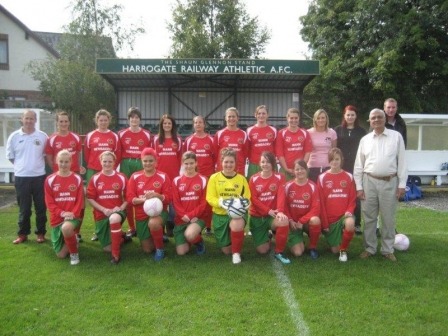 Harrogate Railway Ladies had a emphatic win over Kirklees Ladies winning 7-2 in the county cup second round.
Kirklees came to station view, sat fourth in the league above railway, as favourites but the Railway girls had other ideas!
From the start rail put great pressure on the Kirklees goal and it was 8 minutes before Rails keeper, Emma Prest, was tested. It took only 15 minutes for railway to open the scoring with the midfield putting 3 passes together and then feeding Dee Swales a lovely weighted pass to the right who struck a great ball into the near corner 1-0. Kirklees produced some very strong football and Railway started to panic at the back slightly and sure enough the mistakes came and Kirklees equalized on 33 minutes 1-1.
Railway were not going to be turned over and on the 39th minute Hannah Campbell won the ball , drove forward and beat the Kirklees keeper one on one 2-1, this lifted railway and yet again the midfield took control passing wide left to Nicola Hadley who crossed in finding Hannah to claim her second on 44 minutes 3-1. Half time.
Kirklees changed their formation and played 3 up front, this put rails back four under the hammer, but with great commitment to tackles and team work the girls held out, and constantly played the ball out of danger. Ali Purvis, right back, linked up well with Dee, who consistently put crosses into the danger area, but not until the 69th minute did Hannah mange to connect and make it 4-1. Kirklees were to good to give up and forced many a great save from the railway keeper, but as they pressed, gaps opened up for railway on the counter and Issy Rowe linked up with fellow mid fielder Jodi Hodgson, to release Hannah for her 4th goal on the 74th minute 5-1. This did shake Kirklees and only 4 minutes later player of the match Ellie Macleod, won yet another strong tackle played the ball out wide to Hannah, who only had to walk the ball in as Kirklees stopped looking for a offside call which never even came close! 6-1. Kirklees looked beaten but to there credit never gave up and on the 82nd minute gained another by chipping Rails keeper from just out side the box 6-2. On the final attack Issy put in a brilliant cross from the left and Dee Swales smashed the ball in from 20yrds out 7-2 Full Time.
A truly fantastic result for the Railway Ladies, great team work and still unbeaten in ALL competitions. No luck in this game just hard work and great determination, next week away to Bradford Ladies in the league.