There's a lot happening just now for the Harrogate Band, The Dukes of Bevington.
They have just successfully completed 5 days at Purple pro audio studios in Leeds, recording their new EP and are busy with planning for its launch.
The Dukes are made up of long-time friends Scott Quinn, Christian Davies and James Locke. They have known each other from school days at St Aidan's School where the band was originally formed back in 2009 for a band competition.
Scott plays lead vocals/Bass, Christian plays guitar and vocals with James on Drums and percussion. They emphasise though that they are team and wouldn't be where they are without the support of Alex Pearson who works on their design graphics and Matt Baker who helps out with everything from setting up sound systems to arranging gigs.
The band are being a little tight-lipped around the EP launch date and there aren't any sneaky previews for the press. They did mention that the EP will be called Deux which is a bit of a play on words, being two in French (their second EP) and it can also be read as Dukes.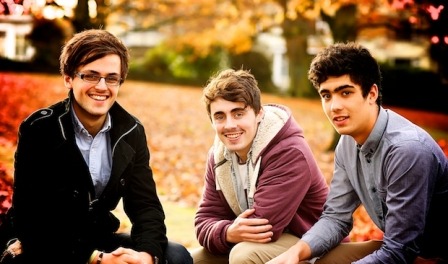 Scott Quinn, James Locke and Christian Davies – on the Harrogate Stray
James explained further:
We did announce a while ago that the new EP would be out this Autumn and we are still planning to release it very soon, all we can say is watch this space!

There's a lot going on though that may not be visible to our fans just yet.

We took a decision to dedicate a lot of time in the studio in recording the new EP and we feel that has really paid off.

We have also been working with a designer and have a really cool website on the way. The website will have lots of pics, videos, a blog and a merchandise store too.
Talking more about their time in the studio, Christian said:
We spent 12 hour days for 5 days in the studio and under the guidance of Sound Engineer Hazel Plummer We saw improvements within the first session.

When we look back on the early days of the band compared to the sound we now have we see a world of difference.

Things seem to be just getting better and better, our sound is a mixture of rock and indie.
Lead singer, Scott Quinn added:
We have really invested a lot into this EP, we realised that to take the band to the next level we needed to invest in some serious studio time – Things have changed in the music industry.

At one time a record label would sign a raw band and invest in them with studio time and generally bring them along. Today though the labels expect the bands to have done so much more themselves.
The band have played many venues in Harrogate and further afield. In Harrogate they have been well received at the Royal Hall, both supporting Kasiuss and at the Amp awards as well as most of the smaller venues including the Alex and Blues Bar. Further afield they have played dates at the Cockpit and 02 Academy in Leeds as well as travelling to Scarborough, Manchester and Newcastle for dates.
They are also looking to support McFly on their upcoming tour. McFly are running a competition based on votes made on facebook.
Scott said:
Supporting McFly would be simply amazing but we need votes to make it happen.

It doesn't cost anything to vote, but if people could go to link the next time they are on facebook it would be really appreciated and put us in with a chance.

There's something like 800 bands taking part with 50 being chosen to join them on various dates on their tour – please vote for us!
Scott, Christian and James are three very talented individuals who are continuing to develop. They have a real balance of serious focus on band-development, taking it well beyond Harrogate coupled with maintaing a real sense of fun and passion for what they are doing.
The EP launch is something to look forward to as I suspect it will show the band playing to a different level than any of us have seen before.
Dukes of Bevington Facebook Fan Page
Vote for the band to support McFly