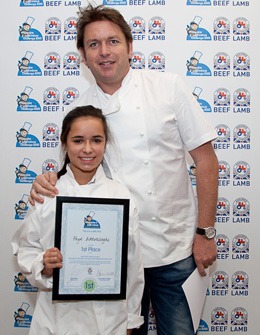 Harrogate College Metro Training Restaurant will again be host to the annual Young Chef Challenge judged by celebrity Yorkshire chef James Martin to find the nations most talented young chefs on the 14th November.
The Young Chef Challenge open to 11 – 16 year olds established in 2005 regularly sees over 800 entries. The event is supported by EBLEX the organisation for beef and lamb quality standard in England.
The challenge aims to engage, educate and inspire students to develop their culinary talents learning the importance of good nutrition, quality ingredients and sustainability.
Young chefs from across Britain compete in regional heats after selection criteria based on submitting their original Red Tractor beef or lamb mince recipes made from scratch within one hour and to a strict budget of £10.
James Martin said, of last year's competition
This has been the biggest and best year of the competition. We've had over 800 entries and Faye has done exceptionally well to be named Regional Champion. Her recipe was original, nutritious, was presented really well – and most importantly, it tasted great!

I'm really passionate about getting youngsters into cooking and this Challenge is a perfect platform for them to learn about food, cooking and nutrition. I hope that the Challenge will inspire everyone who has taken part to continue experimenting with recipes, and to consider the importance of nutrition as well as where their food comes from.
Harrogate College Principal, Anne-Marie Bostock said:
This is a particularly inspirational event with such talented young people producing outstanding food.

It is amazing to think that these are chefs of the future which is wonderful for the industry and the College who is fortunate enough to deliver their training.