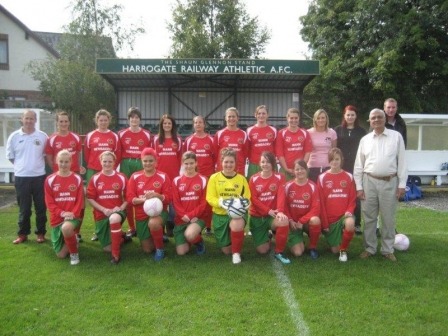 Harrogate Railway Ladies continued their unbeaten run in all competitions today beating Tingley Ladies 5-2 in the League cup.
This was a game that tested railway from the start with Tingley having a good tempo up front and testing the railway back four early on, but as before railway showed they meant business using the width of the field and forcing 3 corners in the first 20 minutes. Midd fielder Abi Clayton made some great chances for the forwards, but it took 29 minutes before she found Hannah Campbell, slipping the ball through and Hannah driving the ball past Tingleys keeper 0-1.
Railway held good possession for the next 10 mins passing the ball around looking for some space and chances, like wise Tingley made it hard for Railway to penetrate, but there frustration showed when player of the match Nicola Hadley went on a run through the middle and was taken down 28 yards out, Ali Purvis stepped up for the free kick and placed it on top off Dee Swales who headed the ball in on the 42nd minute 0-2.
Tingley were a bit shaken and were not concentrating on the re-start as railway forced them back winning another corner on the 45th minute, delivered by Dee, a goal mouth scramble ensued but Hannah claimed her 2nd of the day 0-3 and half time.
Railway looked comfortable on the start and immediately pressed to put the game out off reach, a fine lay off pass from midfield to the left found Ali Purvis( left back) who played a one- two with Ellie McCloud, Ali drove forwards and struck a great shot into the far corner 0-4. Most teams would fold by now but not Tingley, they dug deep and to their credit pushed Railway back claiming a good goal on the hour mark 1-4.
Tingley felt they could turn this around and for the next 5 mins really pushed hard, but this opened them up at the back and on 69 minutes Leah Mercer, on the left, put a 20 yard pass across the pitch to Hannah Campbell who struck the ball so hard the keeper only managed to slow the ball down as it crossed the line 1-5. Railway had used their substitutes and with 8 minutes to go lost full back Katrina Purvis to injury, Tingley pounced on this and immediately put pressure on, scoring their 2nd goal on the 84th minute, 2-5.
Railway finished the game in their own half but managed not to concede any more goals and going through to the next round, a very good display by both teams.
Railway are at home next Sunday 2pm ko at Station View against Brayton Ladies who are 2nd in the league behind Railway.