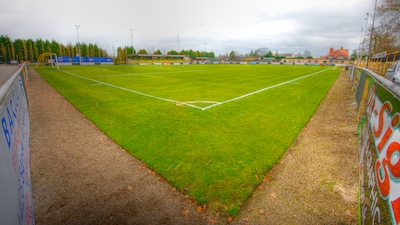 Spirited Frickley Athletic came from behind to knock a depleted Town out of the F A Cup.
Both teams saw plenty of the ball in the opening 20 minutes without creating any serious chances,and strong tackles were evident,resulting in a number of free kicks.James Ashmore and Mark Whitehouse were creating problems in the home defence with the quality of their free kicks, but Richard Pell was again dominant in the air for Town.
Elam looked very lively for Harrogate,producing a number of mazy runs,but it wasn't until the 26th minute that Will Turl produced a good save from Adam Billard in the Frickley goal after an intricate move.
Frickley's Brad Grayson,created problems for the home defence during the first half, with Jake Picton finding him a real handful.
With both teams conceding several free kicks, it was up to the impressive Zac Jones to pulloff a fine save from the Frickley number 11 on the stroke of half time.
After the break,the Town midfield in the shape of Ian Ross and Laurie Wilson, assisted by Craig Radcliffe began to influence the game, and it was from a Radcliffe pass that Lee Elam pounced on a lay off across the box to score Harrogate's goal in the 54th minute.
Frickley threw everything forward in an attempt to equalise and taunted Town with some impressive free kicks and corners and it was from one of these that Will Turl turned into his own goal after 73 minutes.
Town pushed Richard Pell much further forward in an attempt to score a winning goal.
Two substitutions enlivened Frickley further,but it wasn't until the four minutes added time awarded by Referee Ryan Johnson, that the action really exploded.
Stuart Ludlum powerfully headed in a corner at the back post,followed immediately by the dismissal of Lee Elam for two bookable offences.Soon Stephen Turnbull followed him to the dressing room for a similar offence.
Jonny Allan replaced Wilson for the final two minutes,but it's Frickley who progressed to meet Gainsborough Trinity in the next round.
Harrogate Town:
1 Jones 2 Darville 3 Radcliffe 4 Ross 5 Pell 6 Picton (c) 7 Elam 8 Wilson(90Allan) 9 Turl 10 Bore 11 Turnbull
Subs not used 14 Heckingbottom 15 Bloomer 16 Ashworth 17 Cohen
Cautioned Picton ,Wilson Scorer Lee Elam 54 minutes
Dismissed Elam, Turnbull
Report by Alan Tootill
Att.274