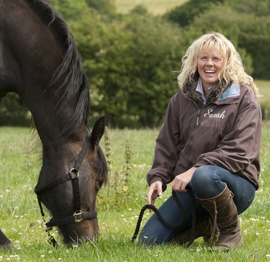 TV horse whisperer Sarah Kreutzer (pictured right) is holding a corporate networking event with a difference this autumn as she invites business people to experience her innovative approach to leadership training and teambuilding.
Sarah, an equine assisted leadership specialist based near Sicklinghall, uses exercises with horses to improve the communication skills of business people as part of her company Learning to Listen's management training programmes.
Sarah explained:
Working with horses gives people a mirror of themselves, their style, blockages and strengths and the results are lasting and often very powerful.
She said people were often cautious about working with horses and found the concept difficult to understand.
I decided the best way to demonstrate the effectiveness of the work I do was to hold a free open networking event so that people can ask questions and meet other like-minded business people in a relaxed atmosphere.

It's also a chance for them to get out of the office for a few hours and enjoy some informal networking in beautiful surroundings.
The Future of Leadership – From the Horse's Mouth is on Thursday November 3 at Carlshead Farm, near Sicklinghall. Due to the high number of advance bookings two sessions are being held from 10am to 12 and 2-4pm. This is a free event but places are limited and should be booked in advance by calling 07764277146 or emailing info@learningtolisten.co.uk specifying which session you wish to attend. Refreshments will be provided and undercover training facilities are available in bad weather.