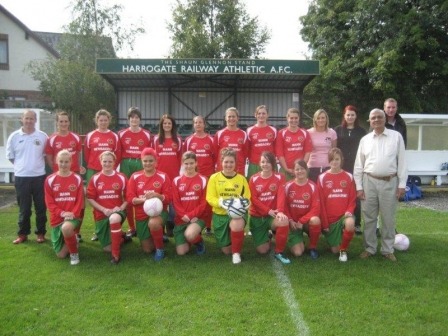 Harrogate Railway Ladies took on second place Keighley at station view in a game that always brings the best out of both teams.
Railway yet again were first off the mark putting great pressure on the Keighley defence and testing the keeper and it only took 4 mins for Railway to win a second corner, delivered straight to the head off player of the match Hannah Campbell 1-0.
Railway continued their offence but failed to make the chances count, Keighley held on and slowly got them selves back into the match breaking out through the middle time and again.
Railway switched off on 25 mins and allowed a way through, with Rails keeper Emma Preston off her line, Keighleys striker chipped the ball from 19yrds out to make it 1-1.
Both teams played at a high tempo and strong challenges went in from both teams, yet again though Railway won a corner on the 38th min sent in by Dee Swales to the front post where Paige Swales did a cheeky flick with her right foot to make it 2-1 at half time.
It was Keighly who started the best in the re start and took only 3 mins to equalize 2-2, Railway were just not on the pitch for the next 10 mins and took some strong pressure.
After some strong encouragement from the manager Railway got back in the game and both teams had chances.
On the hour Keighleys full back took out Hannah Campbell for her 2nd yellow and left the field! Railway made the best of this passing the ball well and driving forward.
Not until Nicola Hadley was taken down 20yrds out and Rail got the free kick did the winning goal come. Dee Swales stepped up and placed it into the far right corner with 6 mins left. Railway held good possession for the remaining time and took all 3 points and top place in the league.
Next week Railway Ladies play Hemsworth at Granby school 2nd Oct 2011  1-30 KO