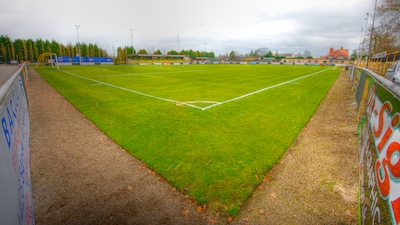 Harrogate fought out a dour goalless draw with Halifax before a bumper crowd at the CNG Stadium.
Simon Weaver was well pleased with his teams battling performance as they put the Histon defeat behind them.
Stephen Turnbull's early free kick sent Laurie Wilson away down the left,but his cross was cut out by Simon Eastwood in the Halifax goal.
On ten minutes Craig Radcliffe's long clearance reached Lee Elam but Eastwood was quickly off his line to rub out the danger.
Ex Town favourites Danny Lowe and Danny Holland combined to set up the latter,but he placed his header well wide.
Holland then played Terry Dixon in with an excellent through ball,only for him to loft his shot on to the roof of the net.
The second half opened with Paul Brayson driving a 25 yard free kick at Eastwood,but Halifax with the slope in their favour, began to take control.
Scott McManus was wide with a thirty yard drive and Adam Nowakowski and Richard Pell made brave blocks as the visitors piled on the pressure.
Town's new keeper Zac Jones made several fine saves,culminating in a brilliant diving save from Tom Baker's penalty, after Referee Gary Beswick penalised Jake Picton's tackle on Baker.
Harrogate were confined to breakaways,but the tireless Brayson found it hard work against a rugged defence, although Peter Bore made some fine runs.
Town threw on all three subs in an effort to grab a late winner,but it was the visitors who staged a grandstand finish forcing a series of corners. Although Lowe and Lee Gregory went close, it was the home defence, marshalled by the redoubtable Pell who won the day and gained Harrogate a valuable point.
Harrogate Town 1 Jones 2 Darville 3 Radcliffe 4 Nowakowski(Heckingbottom 70) 5 Pell 6 Picton(c) 7 Elam(Turl 70) 8Wilson 9 Brayson
10 Bore 11 Turnbull(Ross 80)
Subs unused16 Bloomer 19 Cohen Booked Nowakowski
Attendance 1107