On Saturday 17th September a team of volunteers helped renovate a garden of an elderly blind man in Starbeck in Harrogate.
The Harrogate Volunteer Centre in Harrogate approached Harrogate-News a number of weeks ago asking for help on a bigger job than they normally tackle. A request for help was then placed via Facebook and a great response was received.
Due to the size of the job, with the volume of old masonry that was present it needed a skip (or two!) or a lorry to complete the job. Neil Harper of Harper Haulage contacted Harrogate-News offering use of his flat-back tipper lorry.
On the day the job was tackled by Neil Harper and Dan Clarke from Harper Haulage with Sarah Griffin, Hannah Cook and Tim Cook from Harrogate-News. The front and back gardens were cleared of old plants, the grass cut back and around 2 tons of bricks and rubble put into the back of the lorry.
In the front, the borders were re-established and edged with some of the existing stone. Harper's also have a division that provides topsoil and had bought some along. A large amount of rubble was moved to the back of the lorry and gravel put down to keep the weeds at bay, again thanks to Harper's for the gravel.
At the rear of the property there was an even bigger quantity of old masonry to move and many plants were cut back so that the owner could walk more easily in the garden, keeping in mind that he was blind.
The lorry was filled to capacity with rubble and old plant materials.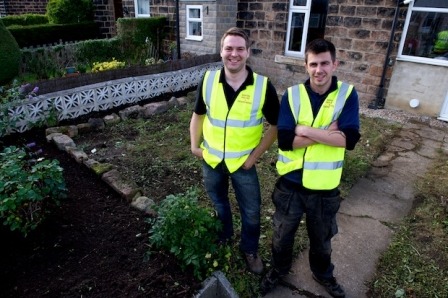 Neil Harper and Dan Clarke of Harper Haulage
Neil Harper of Harper Haulage said:
When I found out about the chance to help out with tiding the Garden I was happy to offer my companies services to help renovate the garden.

I thought it was a great opportunity to give back and help out the volunteer centre.

It really was a pleasure to help along with the other volunteers to tidy the garden and was glad the weather held off which gave us the opportunity to have a good day.
Jane Cozens, Project Coordinator for Help at Home said:
Thanks go out to the team for all their help and co-ordination for the garden clearance in Starbeck last Saturday.

Help at Home is a small charity project for which this sort of work was too big to undertake.

The gentleman helped is elderly, lives alone and is blind, so safety for him both in and outside of his home is essential.

Path clearing and garden clearance for this man now makes his garden fit in with the other gardens in the road.

This is essential as unkempt houses and gardens can attract the wrong sort of attention and the elderly can often be targeted for doorstep traders and others who can take advantage of this situation.

Our main aims for the people we help are to increase their self-confidence in living alone at home, and help restore their pride in living at home.

Quite often we come across older people who are ashamed that they are unable to maintain their own homes and we find that they are relieved and it is always a weight off their minds when jobs have been done for them.

Skip hire is far beyond the services we are able to offer here, and beyond the pockets of our service users, so to have the help and support of Neil and Dan is overwhelming!

We cannot thank Neil and Dan enough from Harper Haulage for giving up their time and equipment for free.

Without the help of volunteers these jobs would also take longer, it's also great to have the offer of help and volunteers usually enjoy this sort of work as they really feel they have given something back to the community and had the opportunity to help people from different generations and all walks of life.

We hope to increase skills and social opportunities for volunteers too, which always seems to be appreciated.
The garden before the work started
The gentleman who owns the house was delighted and relieved to finally have his garden restored. While it still needs more work to re-establish the lawn and plants in the borders, it has been transformed from what it was.
Special acknowledgement needs to be made to Harper Haulage for their time, use of a vehicle, providing top soil and gravel. They also paid for the tipping cost of a large amount of waste.
If you would like to volunteer then details of opportunities can be found here Become a Volunteer – can you help ?
This project will be the first of many community-focused projects that Harrogate News will be involved with in the coming months. If you would like to suggest a project then please contact us news@harrogate-news.co.uk