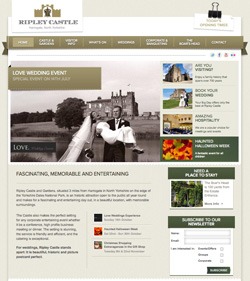 Three new websites have been created by Extreme Creations based in Harrogate, for Ashville College, Ripley Castle and the Boars Head.
Visitor attraction, Ripley Castle Estate in Yorkshire, has  re-launched two of its websites, one for the Castle and the other for its coaching inn, The Boar's Head.
Sir Thomas Ingilby owner of Ripley Castle said:
Both websites were starting to look dated and we decided to invest in new sites to attract more visitors.

We needed to redefine our web presence to ensure both sites were achieving our business objectives.
Between them, Ripley Castle and The Boar's Head have very different audiences and business needs but the two sites needed to be interlinked due to there great potential for cross promotion.
They were designed in such a way that each property has its own territory, which they did not previously, and have improved platforms to promote to their different markets, whilst ensuring easy traffic between the two properties.
Sir Thomas added:
Both sites are now much easier to navigate. Visitors can find all the information they are looking for whether it is for the opening times of the Castle, booking a wedding or wanting to hold a corporate event for example.

In addition, the new Boar's Head site now offers an on-line booking system for accommodation.
The new websites can be visited at www.ripleycastle.co.uk and www.boarsheadripley.co.uk
Ashville College accommodates students from pre-prep to sixth form, with more than 120 boarding students. The new website incorporates a readily accessible calendar function that the college, its students and their parents can use and update. The new website also features a news and press page to showcase accomplishments, as well as a gallery of student events and activities. It can be seen at www.ashville.co.uk
Ashville College Marketing Director Alicia Coad said:
We are delighted with our new website which is all part of our strategic development to improve communication with pupils, parents and the wider community.

Since going live we have already seen an increase in traffic to our site and would expect this to further increase as parents and pupils start to check it daily to view notices, photos and other news.
Extreme Creations MD Antony Prince said:
The Ashville College and Ripley Estate represent everything that is great about Yorkshire and we're delighted to be working with both of them. Ashville's new website will help the college communicate its success with students and their families – past, present and future – and set the college apart from its competitors.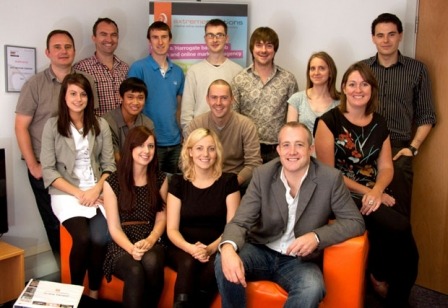 The Extreme Creations Team
Founded in 2002, Extreme Creations is a 14-strong team working with a range of local, national and international clients including BIC, North Yorkshire County Council, Global Knives, Wensleydale Creamery, Neoss, Devilbiss, The Black Sheep Brewery and Bradford University.