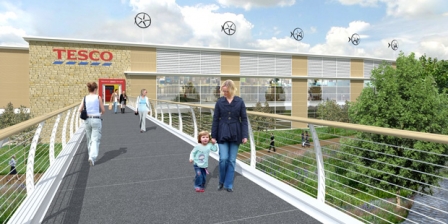 Councillors in Harrogate have approved plans for a Tesco superstore on a former gasworks site in Harrogate.
The landmark decision follows a five year battle by the company to build a store in the town, the only postcode in mainland Britain without a Tesco superstore.
Harrogate Borough Council voted 11 in favour, 3 against and 1 abstention to the planning application, which Tesco says will create 300 new jobs.
Objections raised by councillors, members of the public and Harrogate Chamber of Trade and Commerce included concerns about traffic congestion and the danger of building on a former gasworks.
The Council said the matter would be referred to the Health and Safety Executive for a final decision to be made on whether the plans could go ahead or should be referred to the Secretary of State.
If there are no further objections the new superstore could be completed within two years.
Tesco's regional corporate affairs manager, Matthew Magee commented:
Obviously we are pleased with the decision from Councillors. I think all along we have said it is a popular application and it was good to hear that come from Councillors directly.

I think highways was always going to be the issue and again it comes down to the professionals making a judgement that highways will be acceptable around the site and that the wider network will improve as a result of the store.

We are really pleased to be in this position and have the recommendation that we have.
Click here to read Harrogate News' live feed from the planning meeting.
To have your say please add your comments below.