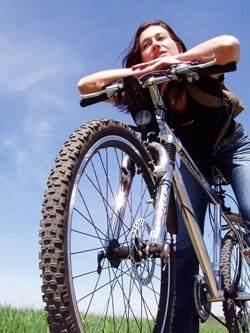 After nearly two years of negotiation and consultation, the Secretary of State for Communities and Local Government has confirmed proposals to allow cyclists to use some of the footpaths on The Stray in Harrogate.
North Yorkshire County Council, as the local highways authority, is now working with Harrogate Borough Council, which put forward the proposals, to complete a scheme which will involve the widening of existing strategic footpaths to allow cyclists and pedestrians to share the selected paths. The paths will be not be segregated, so that signing and lining can be kept to a minimum.
Work will start on site on Monday, 12 September 2011 and will take about ten weeks to complete.
The Leader of Harrogate Borough Council, Councillor Don Mackenzie, and North Yorkshire's Executive Member for Highways, Councillor Gareth Dadd, have both welcomed the news.
County Councillor Dadd said:
These proposals have won widespread support, both from the cycling community and from local residents, and we are delighted that the Government has now approved them said.
Councillor Mackenzie commented:
Members of Harrogate Borough Council voted overwhelmingly in favour of changing the by-laws to allow cycling on six paths in the eastern part of The Stray.

When consulted, residents also showed huge support with eighty per cent voting in favour. I am delighted that the County Council has secured the funding and can go-ahead with the scheme now that the by-law has been amended to allow limited cycling on The Stray. This scheme also supports this council's pledge to improve cycling facilities in the district.
In addition there will be various associated works carried out by the County Council on roads next to the Stray, such as the installation of dropped crossings, pedestrian crossings and islands, in order to allow the new dual use paths to be accessed safely.
The areas of Stray covered by the works include sections of the footpath along Slingsby Walk from Oatlands Drive to Wetherby Road, Willaston Road in its entirety and sections of footpath on The Stray between the Granby Nursing Home, Church Square and Devonshire Place.
The selected paths will be 2.5 metres wide and will be available for both pedestrians and cyclists. There will be no lighting and signage will be kept to a minimum.
The scheme is to be undertaken by HACS Construction Ltd. Access for pedestrians will be maintained wherever possible throughout the duration of the works.