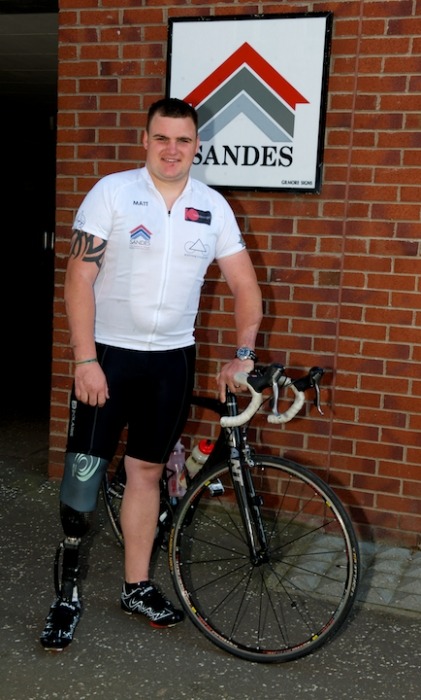 A British soldier who lost his leg in a mine strike in Afghanistan has reached Harrogate at the halfway point of a gruelling 500-mile charity bike ride.
22-year-old Private Matt Woollard, of the 1st Battalion The Royal Anglian Regiment, spent Tuesday night (9 August) at the Army Foundation College on Penny Pot Lane before starting the second stage of his six-day ride to raise £10,000 for Soldiers' and Airmen's Centres (Sandes) – the charity which aided his recovery.
COURAGE
Junior Soldiers training at the College lined the route at the entrance to Uniacke Barracks on Tuesday to welcome the inspirational amputee to Harrogate – and again on Wednesday morning as he started the return to his base in Pirbright, Surrey.
Speaking outside the Sandes Centre in Harrogate, Private Woollard explained: "They have been a great support to me over the years, especially during my recovery, and this is my way of saying thank you.
"At first the challenge was just an idea – we thought of visiting the furthest Sandes from Pirbright – and it was Harrogate.  I thought 'yeah, that'll be alright', but if I knew it was that hilly I would probably have just gone around Pirbright ten times.
"Four years ago I lost my leg and I've not done much fitness so I wanted to do something long distance, and cycling is less impact, but it's really knackering."
CHARITY
The funds raised by the return journey will go towards much-needed renovation work of the wooden huts at the Surrey site.
Matt continued: "People are not aware of Sandes outside of the Army and at Pirbright they're going through difficulties with money and maintenance of the building.
"It'd just be sad to see it go, a charity that's lasted through two world wars.  And it's about awareness because personally I've had a lot of help from Sandes."
___________________________
To sponsor Pte Woollard visit www.bmycharity.com/mattwoollard or to learn more about the work undertaken by Sandes visit www.sandes.org.uk.
For further updates from the Army Foundation College visit http://twitter.com/AFCHarrogate.