The contractor behind the construction of the new £13m event halls at Harrogate International Centre (HIC) has been commended for going above and beyond in its respect for the community.
During an inspection from the Considerate Constructors Scheme (CCS), Wates Construction shone in its ongoing delivery of the venue's two new event facilities, which will comprise 68,000 sq m of additional exhibition and car parking space, due for completion later this year.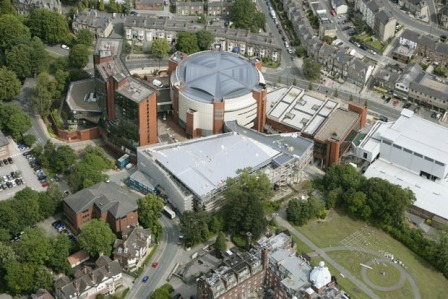 Assessors praised the site for its outstanding environmental consideration, commending its reduced carbon footprint, thanks to close monitoring of energy use and the encouragement of employee car sharing.
The site's health and safety procedures also scored top marks, awarded for the accountability of all staff, sub-contractors and patrons of the HIC, which has remained operational during the building works.
Dave Price, Business Unit Director for Wates Construction, Yorkshire, commented: "This is a significant project for Wates, and while the construction process is going very well, we never take our eye off the ball when it comes to the consideration of our client, our employees, sub-contractors and the general public. It is our undoubted responsibly to ensure we are having a positive impact on the wider community and I'm delighted to see our efforts have been rewarded."
Part funded by regional development agency, Yorkshire Forward, alongside Harrogate Borough Council, the HIC's two new event halls and underground car park will add a further 15,000 guest capacity to its current facilities, seeing the venue's services extend to allow events to run simultaneously.
Councillor Don Mackenzie, Leader of Harrogate Borough Council and Chair of Harrogate International Centre Board, congratulates Wates on this award. "Wates won this contract after a very vigorous tendering process last year. We were confident then that we had engaged a very capable contractor, with an excellent reputation, who clearly understood our business needs and would work with us and with Yorkshire Forward to deliver these much needed additions to HIC. And so it has turned out: the high quality of the work carried out, and the care shown by Wates, by their staff and sub contractors, have been of the very highest quality".
Angus Houston, HIC director, said: "We have found working with Wates Construction a great pleasure. The team has done their utmost to keep disruption to a minimum and as the build nears completion its great to see that their consideration has been recognised by an independent body."
The Considerate Constructors Scheme aims to improve the image of construction, assessing sites against the scheme's Site Code of Considerate Practice to encourage contractors to go above and beyond standard industry requirements.