Bespoke home care is available for the first time to the elderly or disabled living in far-flung communities in rural North Yorkshire following the expansion of a Harrogate-based business.
Continued Care officially opened its newest offices on Settle's Commercial Yard last week, creating seven new jobs.
A team of carers are now available to those who would otherwise struggle on their own, offering whatever level of support is required to allow them to remain at home.
Services offered include personal care, help with meal preparation medication, cleaning, ironing and shopping, night time and even live-in support.
However, the company consults each customer to develop a unique package – whether it's help with the internet, a handyman service, a companion for short breaks and holidays or trips to family or social events.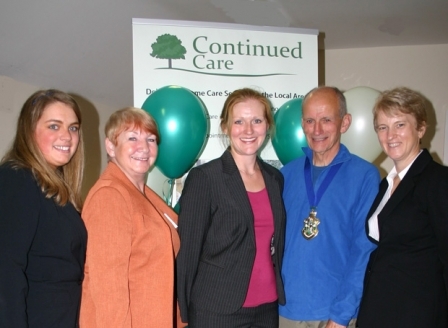 Samantha Harrison (centre) and Christine Mitchell (second from left) join staff at the new offices of Continued Care to welcome special guest and Mayor of Settle, Coun Ian Robinson
Mayor of Settle, Coun Ian Robinson, representatives from North Yorkshire County Council's social services team and members of the business community were among the guests at the official launch.
"This sort of service is becoming more important with an increase in the aging population – particularly in the rural areas away from the main conurbations like Leeds and Bradford," said Coun Robinson.
"There isn't anything else like this in the area at the moment so it could be vital in giving people the confidence to stay at home for longer.
"We have to acknowledge the Dales are popular with people looking for somewhere to retire so the need is likely to be sustained in years to come. We're delighted to welcome the business to Settle."
Continued Care from Oakville, run by mother and daughter Christine Mitchell and Samantha Harrison – both qualified nurses – has its head office in Harrogate. Christine also owns and manages the Oakville Park Care Home on the town's Duchy Road.
Samantha said Settle seemed a natural choice for expansion after a "field trip" to study the levels of home support available in the Dales.
"We had only stopped in Settle for a cup of coffee but got talking to the owner of the café who said there wasn't really anyone offering the sort of services we supply," said Samantha.
"After that, we decided we'd investigate available office space but it was so easy to find our new base at Commercial Yard, it almost felt like fate.
"We're definitely here for good; everyone has been so welcoming and we're very much looking forward to a long and happy relationship with the Dales community."