Dame Fanny Waterman DBE has been awarded Honorary Membership of the Royal Philharmonic Society.
Dame Fanny Waterman occupies an eminent position in the piano teaching world, being credited with inspiring countless generations of young pianists. Her series of ten master-class programmes entitled Fanny Waterman's Piano Progress was screened on Channel 4 in the 1980s. Also joint founder, with Marion Harewood, of the Leeds International Piano Competition.
Honorary Membership of the Society is awarded to musicians of distinction who have contributed outstanding services to music.
John Gilhooly, Chairman of Royal Philharmonic Society and Director of Wigmore Hall, awarded the membership at Harrogate's Royal Hall (17 July 2011) at the end of a Piano recital by Andras Schiff of Schubert (Sonata in G major D894) and Beethoven (33 Variations in C on a waltz by Diabelli Op. 120).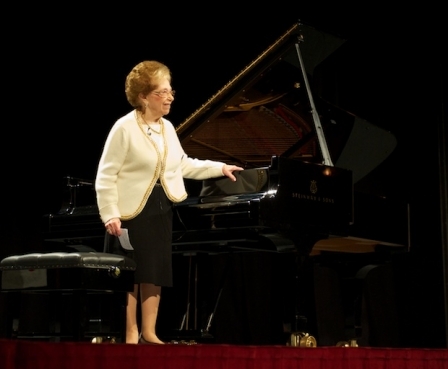 Dame Fanny Waterman DBE at the Royal Hall in Harrogate receiving her award
Since 1826, when the first recipient was Carl Maria von Weber, Honorary Membership has been awarded fewer than 130 times. Recipients have included composers, conductors, performers, music  commentators, patrons, programmers and educationalists. Honorary Memebers have since included Rossini (1839), Brahms (1882), Clara Schumann (1887), Stravinsky (1921), Aaron Copland (1970), Paul Sacher (1991) and more recently Lady Evelyn Barbirolli (2001), the founder of El Sistema José Antonio Abreu (2008) and in 2011 the composer George Benjamin and music publisher Tony Fell.
Sharon Canavar, Chief Executive of the Harrogate International Festivals said: "We are absolutely thrilled for Dame Fanny Waterman. As our Honorary President it is a real honour for us to have her on-board and for her significant contribution to music to be recognised in this way as part of our festival season."
Dame Fanny Waterman receives her award from John Gilhooly (right) with Andras Schiff (left)