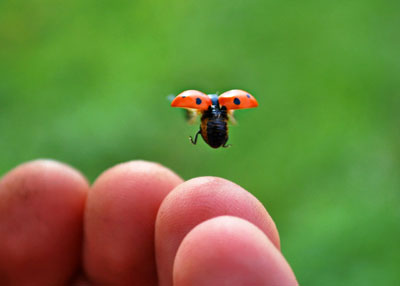 With biodviversity in decline and human influences having a negative and dangerous influence, local councils are being urged to do all they can to enhance biodiversity through their own actions and those of the local community.
Council Leader, Cllr Don Mackenzie and Cabinet Member for Cultural Services, Cllr Caroline Bayliss, have signed the declaration. "We understand the increasing impact that biodiversity decline is having on our communities and we commit to tackling the cause and effects of this decline in our local area.
"Through the declaration we are committing to consider enhancing biodiversity in our decision making and wherever possible make sure that our parks, gardens and land is managed in a way which is sympathetic to wildlife. We will also, through our corporate planning, supply relevant information on the progress of our actions to increase and enhance biodiversity within our district."
The declaration was signed at the wildlife 'Nectar Bar' in the heart of the town's Valley Gardens, located behind the bandstand and opposite the Magnesia Well café.
Harrogate Borough Council has worked with award-winning garden designer Paul Hervey-Brookes to provide a 'Nectar Bar' in the Valley Gardens and an 'in-flight garden' on Montpellier Hill.
Paul has worked with the council's parks team to design and plant beds in public places that will increase biodiversity and create more habitats.
Both these sites are in prestigious high profile areas and will reflect two differing messages about biodiversity and simple ways to create habitats for insects.
The 'Nectar Bar' is at the heart of the Valley Gardens and features bespoke 'habitat hotels', designed by Paul. Plants here will be particularly attractive to bees and other pollinating insects including moths, which have been highlighted as a garden insect somewhat over looked, are becoming endangered and yet they are an important pollinator.
The 'In flight' garden is in sight of Betty's Tea Room and this site within the built environment has become a green island that can be planted with a mixture of shrubs and herbaceous material which will attract winged insects and small birds. The council has planted key habitat creating plants such as Onopordon, Sanguisorba and Eupatorium which all attract moths, butterflies and insects such as hoverflies or soldier beetles which are very attractive flower-loving insects.
In turn these attract small birds as a food source particularly during the chick-raising life cycle. This will bring to life to an area of habitat and also create something visually stimulating to passers by.