Rachel Gillbanks from Rossett School in Harrogate was awarded the Most Entrepreneurial Person Award at Umph! – the inaugural competition for students that aims to inspire future entrepreneurs.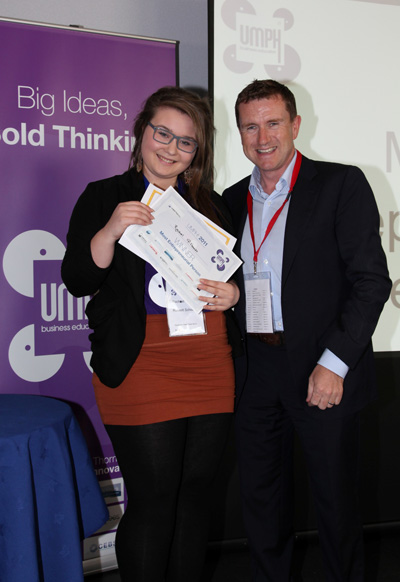 She said: "It's a really good feeling to win the Most Entrepreneurial Award. Today has been great practice for the real world of business and winning this award is a great stepping stone toward my future ambitions to be successful in business."
Huddersfield's Greenhead College won first prize at the competition, Harrogate's Rossett School took second place, with Huddersfield's Shelly College coming third.
Some of the most influential business minds joined forces with schools and colleges across the Leeds City Region at the Galpharm Stadium on 16 June for the day-long battle to find and inspire young entrepreneurial brains.
Liam Grogan from Greenhead College said that they were overwhelmed with the win: "The speakers were really inspiring so that motivated us to do our task. It does inspire you; it shows if you have opportunities you can grab them. For some, this may have been a little event but for us, we wanted it, and with the level of business people here it can actually open doors."
Umph! is the brainchild of the financial advisors Grant Thornton, and part of its Educate to Innovate programme that creates links between education and the real business world. Partner and Head of Lead Advisory for Yorkshire, Ian Marwood and the Head of Business Development Sandra O'Neill from Grant Thornton presented the Greenhead College students with the first prize.
Dean Hoyle – the chair of Huddersfield Town Football Club and Wakefield-born businessman who sold his gift store chain Card Factory for around £350m – gave an inspired talk to the 16-19 year olds. Hoyle spoke of how he left school with few qualifications before working as an apprentice in a Dewsbury engineering firm. He went from sweeping floors to becoming a multi-millionaire.
Hoyle said: "You have to have desire. Desire and determination. It's not the easy option. You need to put in the hours and the effort, there's lots of heartache and a lot of tears…I had the urge to be my own boss, be in charge of my own destiny. I didn't want to work for 40 years and get a gold watch at the end of it. There's more to life than that. I always say you only live once, and you're a long time dead."
Hoyle saw an ad for a card factory for sale and opened his first shop in Wakefield: "That was 12 and a half years ago, one store became 498 stores with a turnover of £235m and I sold it for a lot of money," he told the students, "If I can do it, anybody can do it."
Hoyle topped the Beckhams, Sean Connery and Ringo Starr on the 2010 Sunday Times Rich List.
He added: "Do you want to make someone else lots of money or give it a go? And if it all goes well you can buy a football club and loose it all! I used to detest Sundays when I worked in engineering. Not once since I've been self-employed have I thought I don't want to go to work tomorrow, and that's priceless."
Teams from Harrogate included Harrogate College and Rossett School. Selby College, Huddersfield New College, Kirklees College, Greenhead College and Shelley College competed and from Halifax, Brooksbank School Sports College, Trinity Academy and Calderdale College took part in the event, which pitted teams against each other to compete in the virtual business game, SimVenture.
SimVenture is a multi-award winning virtual game designed and supported by business experts that mirrors the reality of running a business. The simulation replicates what it's like to start a business from scratch, from sorting out the finances and hiring and firing, to putting together a sales and marketing strategy.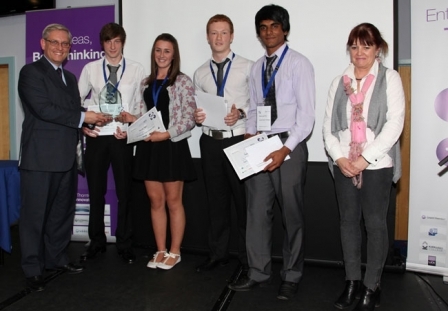 The winning team from the Huddersfield College – left to right – Grant Thornton's Ian Marwood, Luke Robertshaw (17), Danielle Hughes (17), Liam Grogan (16), and Pashupati Rai, (17), Grant Thornton's Sandra O'Neill
DJ Alex Simmons – one of the most successful DJs in club land known for his remixes of I Kissed a Girl, Kids and Karma Police – also gave an inspired talk at the event. The dad, DJ, promoter and producer benefited from the help he received from business mentors when he was a teenager after struggling with school and academia.
DJ Simmons told the students: "I discovered my skill was communication. I realised I could get on with a tramp or a King and relate to them. It's amazing what you can achieve with a bit of hard work and dealing with people. It's putting into those relationships and getting to understand people. In my job, money comes and goes. The one thing that's always there is the people. Always invest in people."
Ex pop star and football agent Andy Hobson, now managing director of Fantastic Media, a marketing agency, based in Batley, also shared his tips for business success.
Umph! was sponsored by a range of local educational institutions and businesses including University of Huddersfield, Kirklees College, Kirklees Council, Sainsburys, Huddersfield Town Football Club, Fantastic Media, Lick Group and Dickinson Dees.