White Rose Festivals, in partnership with Ultimate Voice, have just announced that the live auditions for Yorkshire's Got Young Talent 2011 will be held at Harewood House on Monday 4th July.
The singing competition, which launched last month is a new initiative developed as part of the White Rose Winter Music Festival at Harewood House. The campaign aims to identify and show off Yorkshire's stars of tomorrow whilst also raising funds for Candlelighters, supporting the work of the Children's and Teenage Cancer Unit at Leeds General Infirmary (LGI) and the families whose children are being treated there.
Anna Cunningham, Director of Ultimate Voice, comments; "We have been really impressed by the candidates who have entered the competition so far. The talent that can be found in Yorkshire is certainly something to be proud of and we are really looking forward to hearing the performances at the auditions on 4th July." Then in a message to the applicants, Anna adds; "This is your chance to show off your amazing abilities and have fun with the support of a professional accompanist and in a friendly, relaxed atmosphere – no scary panel of judges with buzzers, just an opportunity to shine!"
The two winning contestants will each have an opportunity to perform a popular aria from a world famous opera, sharing the platform with leading soloists and accompanied by a full professional orchestra. This will take place on Thursday 17th November during 'A Night at the Opera', the festival's opening show.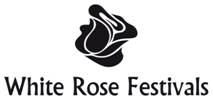 Contestants must be between the ages of 16 and 18 at the time of performing and must reside in Yorkshire, so White Rose Festivals is appealing to schools, teachers, parents and local performing arts groups to put forward their most talented pupils.
Contestants who wish to enter are asked to request an application form from Anna Cunningham info@ultimate-voice.com . All application forms must be returned before Monday 20th June . All successful applicants will then be sent a personal invitation to attend auditions which will take place at Harewood House on Monday 4th July.
Tickets are on sale and selling fast for the 2011 White Rose Winter Music at Harewood House, where the winners will be performing live for the opening night. The festival show programme, developed by Anna Cunningham and her team at Ultimate Voice offers a feast of musical entertainment for all tastes, including A Night in the West End on Friday 18th November and a rapturous finale on Saturday 19th November with A Night at the Proms.
Gary Verity, Chief Executive of Welcome to Yorkshire, said: "This popular festival is one of the North's leading classical music events. So it's great to see them not only giving Yorkshire's talent the chance to shine, but also support an extremely worthy cause."
For further information about the White Rose Winter Music Festival or to book tickets or hospitality online please visit www.whiterosefestivals.com or contact the festival booking line on 01423 563563, email info@whiterosefestivals.com