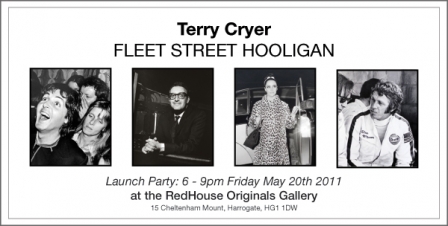 A solo exhibition featuring the stunning black and white photography of Terry Cryer.
Born in Leeds in 1934, Terry Cryer has a way with a camera like no-one else. Timeless, intuitive, effortless and iconic, his images and printing techniques tell stories that words could never define.
"I got a job as a freelance for The Jazz News. I faked myself credentials and I got myself a press card. Was this honest? Who cares. I broke the rules because it was a lot more exciting than following them. The establishment move the goal posts to suit themselves. Why shouldn't I?" Terry Cryer
This special collection of vintage and original prints includes the unveiling of unseen and rare photographs from the archives, including Cryer's stunning portrait of Elizabeth Taylor, taken at the Dorchester in 1963.
The exhibition traces Cryer's beginnings on the streets of Leeds in the 1930s and 40s, through the smoke-filled jazz clubs of the 1950s and onto the heady days of 1960s London where Cryer would rub shoulders with the greats of the stage and screen.
"His pictures are jazz classics" – The Guardian
Candid portraits of Steve McQueen, Peter Sellers, Eartha Kitt and Paul McCartney are amongst the famous names on show at the exhibition in Harrogate which also gives a rare glimpse into the man behind the lens. Cryer's "out of bounds trips" with the army in Egypt are well documented as are his visits to Moscow in the early Sixties where discretion was key but the photograph was still king.
"I've known Terry for many years as a mate and have admired his photographic work for as long as I can remember. Linda and I both respected his talent and his great photographic skills" Paul McCartney
Fleet Street Hooligan will be opened by Terry Cryer in person during a special preview evening at RedHouse Originals on Friday 20th May. To attend the event please contact the gallery.
The exhibition opens to the public on Saturday 21st May and continues until Sunday 19th June.
RedHouse Originals are on 15 Cheltenham Mount Harrogate HG1 1DW
Opening Hours: Mon to Sat 10am – 6pm Sun 11am – 4pm
Exhibition opens to the public Saturday 21st May and continues until Sunday 19th June
Preview: 6 – 9pm Friday 20th May – please contact the gallery to attend:
t: +44 (0)1423 884400