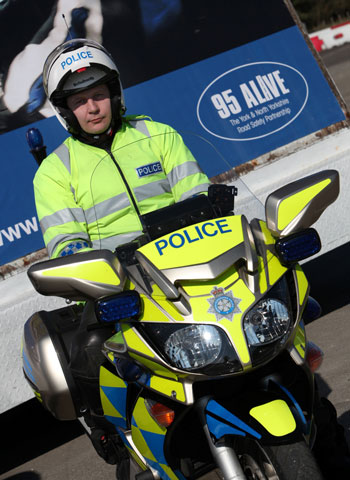 Officers from six police forces will be out in force this weekend to ensure the safety of thousands of motorcyclists expected at the latest round of the British Superbikes Championship.
North Yorkshire Police officers will be joined by colleagues from Durham, Cleveland, Cumbria, South Yorkshire and Humberside forces to police the routes leading to and from Croft Circuit, as well as engaging with riders to promote safe riding.
Before setting off for Croft, bikers are urged to take a look at the Roadwise website hosted by the "95 Alive" York and North Yorkshire Road Safety Partnership www.roadwise.co.uk/bikers . Among lots of other things, the site contains safe riding tips and advice, riding clinic videos, a chance to win specialist safety gear and riders can also familiarise themselves with North Yorkshire's crash hotspots.
The 95 Alive York and North Yorkshire Road Safety Partnership will be at Croft with lots of advice on how to improve your skills. They will also be distributing their free Bikers' Guide to North Yorkshire and their DVD containing riding skills clinics by Glenn Julian shown on the website.
Fiona Ancell, Road Safety and Travel Awareness Officer for North Yorkshire County Council said: "Our new Bikers Guide shows five routes across the county on which riders consistently come to grief. We ask riders to check out the information on our website about where crashes have happened and why.
"Bikers need to take heed of these warnings. There is no place on our roads for competitive riding – leave that for the track. When you are biking on North Yorkshire's roads, please read the road and take extra care when riding in groups or overtaking."
Inspector Dave Brown, Head of Strategic Roads Policing at North Yorkshire Police, added: "We are expecting thousands of bikers to attend the championships and we want to make sure they arrive at Croft safely and also arrive home in the same condition they left.
"Twenty of their fellow motorcycle enthusiasts died on North Yorkshire's roads last year. Three quarters of those deaths were down to rider error. Neither us nor their families want a repeat of that dreadful toll.
He added: "We know the vast majority of riders are sensible and share our views on safety. But there is a small minority who think our roads provide an alternative to the track.
"We will be out in force, not just to enforce the law, but to engage with bikers and encourage them to improve their riding skills. Many police officers are bikers themselves and fully understand the thrill of riding, especially on North Yorkshire's fantastic roads. But, they also understand the need for a skill set over and above those required to pass a test. Which is why we must encourage riders to improve their techniques and take extra training."
The skills DVD and the Bikers' Guide to North Yorkshire will be handed out to bikers throughout the summer at various locations.