Alison Long from Harrogate has spent a year fighting cancer and is now in remission. She wants people to hear her story, understand more about the condition and to help her raise money for the Lymphoma Research charity.
Alison was diagnosed with Mediastinal Large B-Cell Lymphoma a form of Non-Hodgkins Lymphoma a type of cancer that affects the lymphatic system, and essentially, is a collection of cells that accumulate and form a tumour in the lymph nodes (glands) and other parts of the body.
Now in remission, the 30 year old is targeting in the Bracknell half marathon on the 8 May 2011.
To support Alison, please follow the link www.justgiving.com/LymphomaResearch
Alison's Story in her own words
In May last year I went to work as normal (and felt absolutely fine). I noticed a slight pain in my left arm (and ignored it)… but by lunchtime it had got a lot worse and my arm had swollen up.
I went home for lunch and mentioned it to my partner Des who said that I should definitely get it checked out by my GP.
I went back to work and then started to feel slightly faint and my colleague Helena said that I should really go to A&E.
After a few hours in A&E and a few blood tests later I was told that I had a blood clot/dvt in my arm, but they weren't sure why I would get a blood clot as I was reasonably healthy and fit and hadn't been on a long flight or anything.
They did an X-ray and said that I possibly had a few other blood clots near my collar bone and they wanted to get these checked out so shipped me over to York Hospital and put me on a Hepparin drip (which became my new handbag holder for the weekend).
By the Monday morning I was restless and fed up of being in a Hospital bed but had to wait to have a CT Scan.
I had the CT Scan on the Monday evening as was ready to go home when my Consultant called me and Des in to the quiet room and then told me that I had a tumour in my chest.
My friend Faith had come over to see me and I remember just standing there (crying) in shock, with arms wrapped around both of them.
I remember feeling so worried out Des – he'd lost both his parents during the past 3 years and now he was going to lose me as well. I remember his lovely sisters, Niamh and Clodagh, saying to me "don't worry about Des, we'll look after Des and he'll look after you" (which still makes me cry to this day).
My Mum and Dad were also coming over to see me so we had to wait to tell them the news, which again I was worried about because my sister was diagnosed with Breast Cancer at the age of 30 as well (thankfully she's in remission now and has two gorgeous little girls).
We told Mum and Dad who were shocked and upset but a tower of strength to us both.
Then we had questions…
We were allowed to go home that night and come back in the morning. We made a pact to both stop crying and try think think positive from then onwards…
We went back to the Hospital and spoke to a Specialist who made us feel a lot better about the situation and said that Lymphomas are highly treatable and normally the survival rate is very good.
We were then referred to an Oncologist at Harrogate Hospital and were told that the treatment would involve chemotherapy starting in a few weeks time. The next step was to go for a biopsy so that they could determine the type of Lymphoma that I had (we knew that it would either be Hodgkins or Non Hodgkins Lymphoma).
The biopsy confirmed it was a Mediastinal Large B-Cell Lymphoma and that the treatment was to be 6-8 cycles of chemotherapy followed by radiotherapy.
We were also told that we'd need to think about postponing our Wedding and Honeymoon which we had arranged for Friday 5th November '10 (on our 5th anniversary).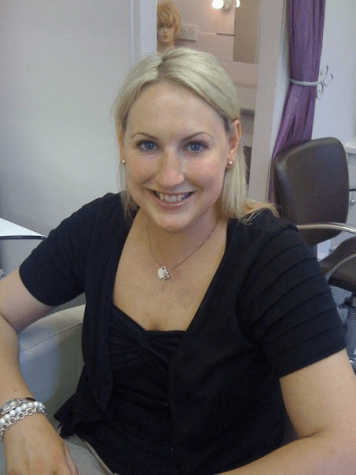 Something to look forward to…
My 30th Birthday was looming, and so that we had something nice to look forward to (after all the bad news), Des told me that he'd planned a surprise trip to Barcelona… however, a couple of days before we were due to go I went in to work and everyone was shocked to see that my face had swollen up (I hadn't even noticed!).
I rang the Hospital and was told to go straight to the Macmillan Dales unit where they gave me some steroids (which worked straight away), and was able to get an appointment with my Consultant on the following day, who told us that I had to start chemotherapy treatment earlier than planned (as the tumour had obviously grown and was more aggressive than they first thought) and that we wouldn't be able to go on our trip to Barcelona (at which point I burst into tears…).
So on my Birthday we went wig shopping…
First chemo…
My first chemo was the day after my 30th Birthday and didn't get off to a brilliant start as I fainted after taking piritin (which is one of the pre-treatment drugs)… for the next three days I slept and was quite poorly and then on day four Des dragged me out of bed and got me to go for a walk near the stray. At first I felt so weak that didn't even think I was going to manage to get out of the car but the more steps I took in the fresh air, the better I felt so we ended up walking nearly 2 miles!
Losing my hair…
My Consultant told me that the chemo would make my hair fall out within 3 weeks of having my first one (and it did, although I couldn't bring myself to have it all shaved off initially and I found it very upsetting) – this was probably the point where I realised I was ill, as I looked ill.
I chose to wear wigs throughout my chemo and radiotherapy as it made me feel more like my normal self.
Chemo 2 – 6
The next few chemo sessions were similar to the first – I found that sleeping helped with the sickness (if I wasn't awake I wasn't being sick) and when I had another scan after my 4th chemo it showed that the tumour had shrunk by over 90% (which made it all feel worthwhile)!
I was disappointed though that they still wanted me to have the full 8 chemo sessions as I was even being sick before they'd even hooked me up to the canula.
Chemo was a painless process but I couldn't stop the feeling anxious about it (which is what was making me sick). I spoke to my Consultant and the Macmillan Nurses and even my sisters Oncologist and they suggested I try an anti-sickness drug called Emend, together with Lorrzepam the night before my next chemo session…. and it worked…. I had no sickness at all after my 7th chemo session and was even eating pizza the same evening (I couldn't even watch adverts for food previously!). I was still exhausted from it but it made it a completely different experience altogether and if I ever have chemo again (hopefully not) I know that it wouldn't be that bad.
Last chemo…
The day before my last chemo session I was quite emotional. I'd got used to going to the Hospital the day before to have my bloods checked and used to seeing the lovely staff and Macmillan Nurses, hence I found it quite sad and yet exhilarating at the same time (I'd got through it!!!).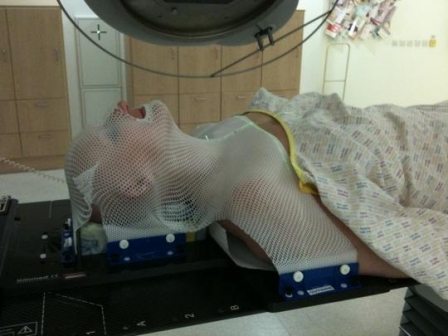 Radiotherapy
My radiotherapy treatment was all done at St. James's Hospital in Leeds.
We went to an open evening (which was really reassuring and informative) and then I had an appointment with my Radiotherapy Consultant (who explained that the radiotherapy was a 'belts and braces' treatment to ensure that the cancer doesn't come back (even though the radiotherapy itself poses a slight risk of secondary cancers).
I had to have a mask formed to protect my head etc. during the radiotherapy, and although this felt slightly strange, the radiotherapy was completely painless and I had no side effects (apart from tiredness which I only realise now, now that I've got loads of energy back!).
And now…
Normality returns (and I am so grateful for just being normal!)…
I am so grateful for all the support given to me by friends, family, work colleagues, nurses and team at the Lymphoma Association who do such an amazing job, and just want to try give something back (like anyone in my situation would)…. which is why I have guilted as many of my friends and family that I can into running the Bracknell Half Marathon (all in the name of raising money for charity of course!)…. so please please dig deep and sponsor us all at:
www.justgiving.com/LymphomaResearch