Harrogate Borough Council will be exhibiting at this year's Harrogate Spring Flower Show (14/17 April 2011). It has not exhibited at the show since 1989 but a partnership with Harrogate College and Harrogate in Bloom is resulting in this new horticultural exhibition entitled 'Postcard from Harrogate'.
The main feature of the exhibit is a 'living photo frame' inspired by a public garden in Innsbruck. Innsbruck Tourism authorities are delighted that their garden idea is being reproduced here.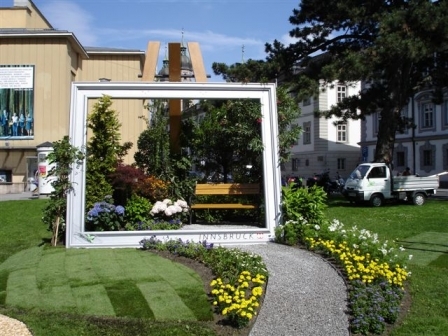 The idea is that people can step into the frame and be 'pictured' in one of Harrogate's famous gardens.
After the show, the council will be relocating the exhibition to Montpellier Hill where it will be on display for the summer to add to the tourist attraction of the town.
Trish McLaughlin, Harrogate Borough Council's, Parks Development Manager, who is leading on the project says that the support from the College is really allowing this exhibit to happen. She added: "Students from the carpentry and joinery workshops are building the frame with the support of their tutors. They are currently adding the final touches including a beautifully carved inscription which one of the students, Lee Cervi, has taken on himself to add to the concept.
"The council has also had financial support from Harrogate in Bloom and the majority of the plants have been donated to the council by James Coles and Sons' Nurseries from Leicester following the Bigga Turf Management Exhibition held at the Harrogate International Centre in January this year."
The picture frame is 2.4 metres high and 3 metres wide and uses Sapele wood which is sustainable and durable. The painted finish of the frame is a muted silver intended to replicate the colour of the Innsbruck frame.
Anne-Marie Bostock, Principal of Harrogate College said: "The students have been working extremely hard on this project, their efforts will be evident when the exhibition is unveiled and enjoyed by the public. A project like this gives students the experience of producing professional work, to the brief and within the given time scales. It also gives them the opportunity of translating what they have learnt during their courses into a real working environment."
Students Aiden Swindells, Mathew Carle, Lee Cervi and Jon Hewitson, together with their Tutors Pat Van Zelst and Graham Oddy, will install the frame at the Great Yorkshire Showground and Harrogate Council's parks team will be doing the planting.