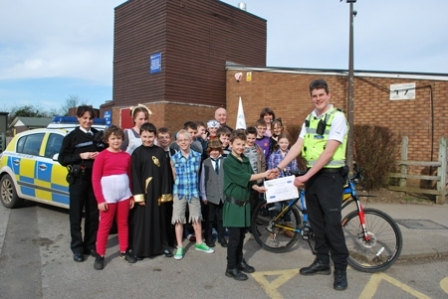 Thirsk children are cycling safer after being put through their paces by local police officers.
Schoolchildren from Thirsk County Primary School have successfully graduated from a cycling proficiency course run by the local Safer Neighbourhood Team.
PCSO Alex Morrison visited the school on Monday (14 March 2011), to hand out certificates to the successful cyclists, along with head teacher Richard Wild.
Mr Wild said: "It is vitally important that all children learn to cycle safely, particularly in the housing zones of our busy towns.
"We are so thankful that this year we have had the support of the local police officers in delivering the training programme for our children.
"It has also been an excellent opportunity to build up community links."
The cycling proficiency test teaches bicycle handling skills and basic manoeuvres which are vitally important when children take to the roads on their bikes.
Harry Goodall, aged 11, from Thirsk, successfully completed the course and believes it has improved his bike skills.
He said: "I do a lot of cycling. I really enjoyed it and it has made me a better cyclist."
During the awarding of the certificates, the children were dressed as characters from their favourite books as part of the school's book fair.
Image attached: PCSO Alex Morrison presents Harry Goodhall with his certificate. In the background are Sergeant Frances Hannan, head teacher Richard Wild and other children from the school.