A dramatic anti-knife-crime community video made by Year 11 students at St John Fisher Catholic High School in Harrogate is one of three projects shortlisted to win North Yorkshire region's Crimebeat competition, part of a national initiative to make communities safer.
Harrogate Community Police Officer Graham Wilson encouraged the 15-16 year old students to enter the competition after seeing an anti-knife crime music project they had been working on in school with Invizible Circle Education, a Leeds-based, grass roots organisation specialising in the provision of tailored multimedia education with a hip-hop theme.
Seven St John Fisher students were involved in producing the video for Crimebeat. With a gritty audio and visual representation of the custodial implications of anti-social behaviour, the students aim to discourage teenagers from fighting, and encourage them to choose a more positive route through their teenage years. The team created the storyboard, wrote and performed the music and lyrics, acted, directed and produced the video, which Philip Ingham, High Sheriff of North Yorkshire shortlisted for the regional finals after his meeting with the boys.
Video is aired to over two thousand Year 6 students at Crucial Crew
In the run-up to the regional Crimebeat finals, the St John Fisher boys have presented the video to around 2,100 Year 6 primary school children in Yorkshire as part of the 20th annual Crucial Crew initiative, hosted by North Yorkshire Police at Deverell Army Barracks in Ripon. Crucial Crew is a multi-agency event that, through the delivery of ten ten-minute, interactive workshops throughout the course of a day, gives Year 6 children from around 90 schools in the region memorable, hands-on experience of scenarios linked with behaviour, emergencies and safety –  in a controlled and supervised environment.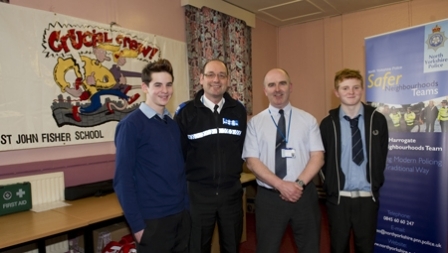 North Yorkshire Police Youth Matters Officer Paul Stephenson, said, "As Coordinator for Crucial Crew, I felt that having an interactive workshop presented by teenagers talking about serious issues would help children identify with and understand the problems surrounding anti-social behaviour before they head up to secondary school. We decided to invite the students from St John Fisher Catholic High School after PC Graham Wilson enthused about their Crimebeat project and it fit in with our schedule very well. Over the course of the programme, verbal evaluation from teachers and pupils has been excellent. The boys have answered many questions and helped alleviate some of the natural anxieties that Year 6 children have about entering the secondary school environment. The video has been very well received, the boys have been a credit to the school and we wish them luck in the regional Crimebeat competition in April."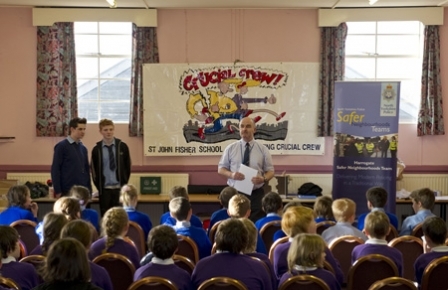 Talking about the video presentation, one pupil from St Edwards Catholic Primary School in Boston Spa said, "The song was really catchy and entertaining and the message was very useful." Their accompanying teacher Mia Treble agreed, "Having secondary school children involved in the day was a very good idea., and the video was really positive. Having the boys there to answer questions really helped our Year 6 leavers relate positively to normal, new situations they may face at secondary school as well as encouraging them to keep clear of anti-social behaviour."
Students involved in the Crimebeat competition are: Tom Meyer, Michael Lishman, Jamie Hopper, Frazer Shepherd, Jake Shaw, Lucasz Rownicki and Henry Chisholm.
story/photo by SIRA Studio