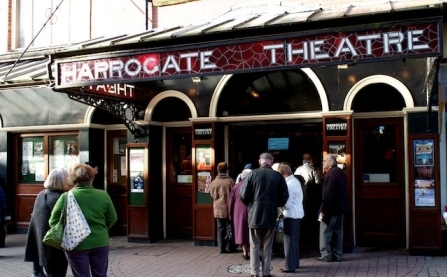 Harrogate Theatres launches jam-packed new season
Harrogate Theatres has launched its new upcoming autumn and winter season with a bang! The bold line up presents a broad and high calibre arts offer, including drama, talks, music, comedy, opera, family, ballet, film, dance and not forgetting the acclaimed annual Christmas panto.
In the main house at Harrogate Theatre this September award-winning Northern Broadsides in partnership with Harrogate Theatre present Shakespeare's 'The Winters Tale'. Also in the main house there's Samuel Beckett's 'Waiting For Godot', Agatha Christie's 'A Murder Is Announced' and 'The Mousetrap', and 'The Great Gatsby'. In addition, Doug Scott talks about his epic Everest expedition, 'Pastmasters: Rockin' at the Pearly Gates' brings music from the 50s, 60s and 70s, and film superstar Roger Moore chats with biographer Gareth Owen about his life and career. If opera is your thing, English Touring Opera brings three gems to the main house this October – 'Werther', 'Pelleas & Melisande', and 'The Tales of Hoffman', with free pre-show talks and multibuy discounts available.
The studio space at Harrogate Theatre presents some of the most exciting emerging performance and new writing. This new season is no exception and proudly champions work by theatre makers from Yorkshire. The line up includes Bradford based Kala Sangham with 'The Dance Divine' – A story about the Japanese Goddess of Light told through movement and music, 'The People's Republic of Poetry' with Yorkshire based A Firm of Poets, and Harrogate's own Rachael Halliwell with 'Project Juno' – a one woman show telling the story of Sheffield-born Helen Sharman, the first Briton in space. What's more Townsend Productions 'The Ragged Trousered Philanthropists' is back by popular demand.
In the new year, 412 Productions with Richard Jordan Productions bring hilarious and provocative new piece of theatre 'Night + Daze / Daze + Night', Brother Wolf presents the thought provoking 'A Lesson from Auschwitz', and Black Toffee brings 'Parallel' – a production developed in association with Harrogate Theatre.
At the Royal Hall highlights include opera from 'La Traviata' and 'Madame Butterfly', talks from cricket legends Boycott & Aggers and wildlife adventurer Steve Backshall, music from the 'Ultimate Eagles', 'The RAF in Concert', 'Legends of New Orleans', Nils Lofgren, 'The ELO Experience', 'Rumours of Fleetwood Mac' and 'The Ukulele Orchestra of Great Britain'. Family entertainment comes in the shape of live orchestra screenings of 'Paddington Bear & The Snowman', and 'The Hollywood Special Effects Show'. What's more, there's a comedy offer from 'Stand Up & Rock! Jasper Carrot & The Bev Bevan Band', and if ballet is your thing, look no further! You can catch 'The Nutcracker', 'Swan Lake' and 'Don Quixote' all at the Royal Hall this autumn.
Last but not least, Harrogate International Centre (HIC) presents a rich musical offer this season. This includes Squeeze, Celtic Woman, Jools Holland, Bellowhead, Diversity, Brendan Cole, Collabro, The Andy Williams Christmas Spectacular starring The Osmonds, and Gareth Malone. HIC also plays host to Freddie Flintoff, hero of the 2005 Ashes England team as he shares his stories and memories to celebrate the 10 year anniversary.
Tickets can be booked securely online at www.harrogatetheatre.co.uk or through the Harrogate Theatre Box Office on 01423 502116.