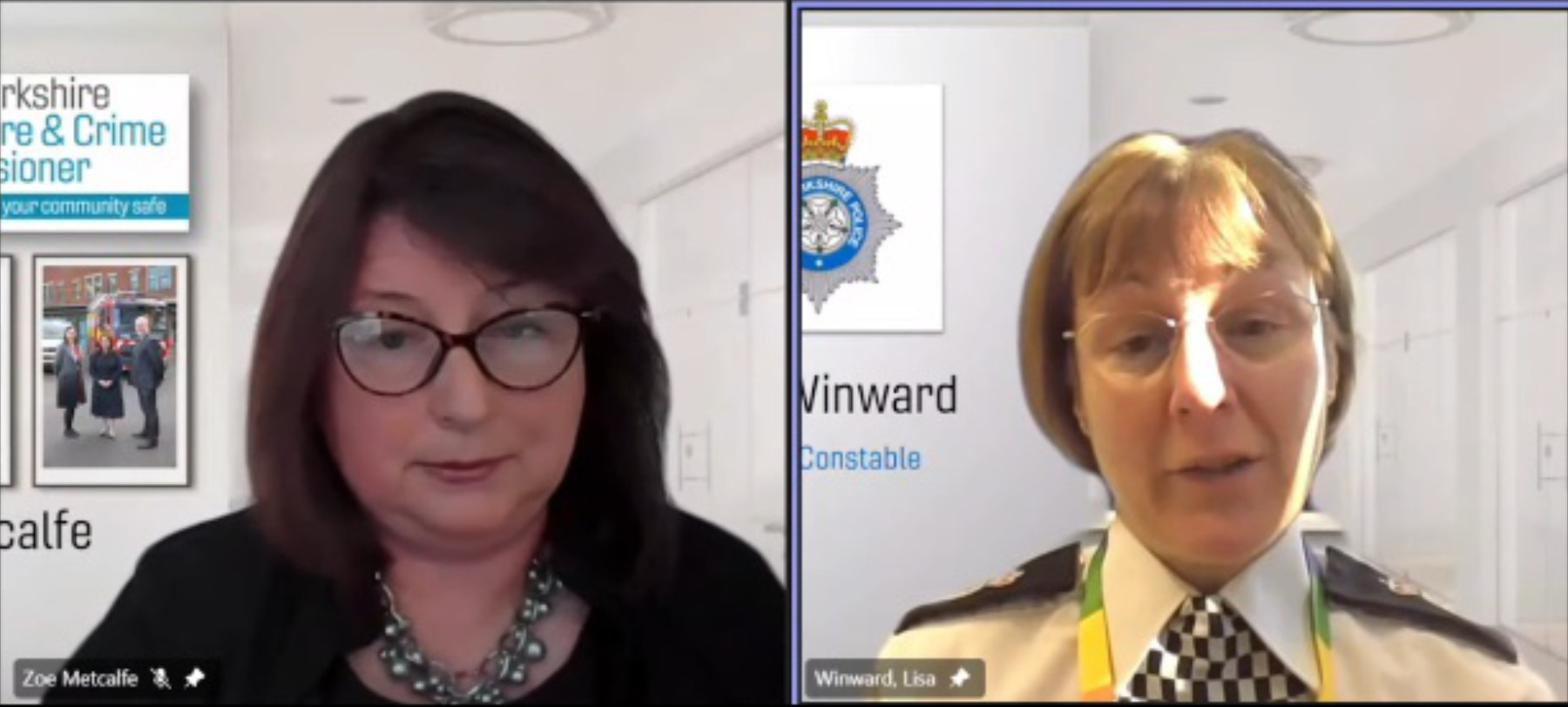 North Yorkshire's Police, Fire and Crime Commissioner has held a special Public Accountability Meeting focused on North Yorkshire Police's response to the National Child Protection Inspection which found serious issues needed to be addressed.
The meeting was chaired by the commissioner and included other members from the PFCC's office, Chief Constable of North Yorkshire, Lisa Winward, Deputy Chief Constable, Mabs Hussein and T/Assistant Chief Constable Lindsey Butterfield.
In November 2021, Her Majesty's Inspectorate of Constabulary, Fire and Rescue Services (HMICFRS) visited North Yorkshire.
The report from the inspection was published on 29 March 2022, and can be read here:
north-yorkshire-national-child-protection-inspection
In the meeting, the PFCC described the report as being of extreme concern and disappointment.
During the inspection, 73 cases were examined with children had been at risk
Good – 13 cases (17.8%)
Requiring improvement – 34 cases (46.58%)
Inadequate – 26 cases (35.61%)
By the nature of the problems found, it means that the failings of North Yorkshire Police placed children at risk of further harm than they should have been.
The report acknowledged that action had already been taken at the time of the inspection, to resolve some of the issues, and North Yorkshire Police have said that work continues at-pace.
The PFCC said that they needed to be candid that what the report found is unacceptable, and part of the role of the PFCC is to scrutinise, which is what the Accountability Meeting is about. She added that the scrutiny would be ongoing as the issues were addressed.
Chief Constable, Lisa Winward, said:

I would like to reiterate my most sincere apologies to any child or any family here in North Yorkshire or the city of York, that feel they haven't received that high standard of service we would want as a police service to provide in such important circumstances. We are committed as a service to the upmost important of protecting children, preventing harm to those children in the first place

and sadly when that harm does occur that we provide the very best service to prevent further harm, and to investigate and support those children, who are by the nature of their age vulnerable in our society.
North Yorkshire Police said that they received a draft report in January 2021, and put a plan in place to tackle the issues raised.
North Yorkshire Police have said that the HMICFRS recommendations to North Yorkshire Police are:
Review process regarding incidents relating to child protection
Acts to make sure officers obtain and record childrens' concerns
Improve its missing children arrangements
Review how it records incidents involving missing children
Work more closely with its safeguarding partners/ review the structure and practices of its multi-agency risk management meetings
Review referral process and supervision, identify risk and share the right information at the right time
Improve child protection investigations
Improve understanding of CSE (Child Sexual Exploitation)
Ensure children are taken to an appropriate place of safety when using protection powers
It properly investigates offences
it properly records and makes accessible all relevant information
Improve how it manages Registered Sex Offenders (RSOs)
Reviews how it manages the detention of children
Police, Fire and Crime Commisioner Zoë Metcalfe said:

I am grateful to North Yorkshire Police for engaging fully and frankly in this open and transparent process as I ensure they are taking action on this hugely important issue.

It is my job, on behalf of the people of North Yorkshire and the City of York to hold North Yorkshire Police to account and ensure that they are providing the right level of service to everyone, especially those who are victims of crime or most vulnerable.

I will continue to monitor and track progress and will be holding another Public Accountability Meeting to review again, in three months.

It was reassuring to hear from the Chief Constable that significant steps have already been taken following the inspection, and I will continue to ensure I use my role to hold the force to account and ensure more improvements are made.

I have asked my Youth Commission to extend their role and be the voice for young people and take part in the police's gold and silver meetings making improvements to keep children and young people safe.

I would also welcome feedback from children and young people, plus families, communities and partners who have had experience of child protection services in North Yorkshire to ensure their views are incorporated into what happens in the future.

It is important to say that support is always available, and anyone concerned should be confident they will receive the help they need – whether an offence has been reported to the police or not. Supporting Victims is available for advice and help on 01609 643 100 or at www.supportingvictims.org.

By being open and transparent, giving members of the public the opportunity to ask questions and get responses, and having that available for everyone to see and engage with, I am confident we can work together to address the challenges and ensure all children across North Yorkshire and York are able to grow up in a safe environment, cared for and protected from harm.
To view the meeting: