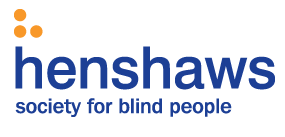 Henshaws – which provides expert care, advice and training to local people affected by sight loss and other disabilities – has acknowledged the great work of its local business supporters.
The charity's first Henshaws Means Business programme of 2012 reinforced how crucial business supporters are in boosting Henshaws' fundraising activities and providing students at Henshaws College with valuable work placements.
The Henshaws Means Business programme offers professional consultancy and training to help companies of all sizes to comply with discrimination laws. It also equips businesses with skills and confidence when hiring workers with disabilities and enhances employers' understanding of how to support visually impaired and disabled workers in the workplace.
Non executive director for Henshaws in Yorkshire, Lindsay Ross explained how the work placements offered by local employers helped students to develop their independence and confidence to transfer their classroom learning into a workplace environment. Students Josh Kirkup, Matthew Gledhill and Ben Kendall gave attendees an enthusiastic first-hand insight into how much they enjoy and learn from their placements at Harrogate Hospital Radio, Horticap, Julie's Café and Henshaws Arts & Crafts Centre.
Simon Cotton, president of Harrogate Chamber of Trade & Commerce, and general manager of the Cedar Court Hotels in Harrogate and Bradford inspired the audience with how he has raised over £4,000 for the charity by completing his first ever London Marathon.
Simon Cotton said:
Having visited Henshaws and experienced first hand the incredible work they do with the students, it was an easy decision to choose Henshaws as my chosen charity to run the London Marathon for.

The students are all such inspirational people, not least because of how overwhelmingly positive they all are about life and I would challenge anyone not to be motivated by their amazing achievements. They certainly motivated me to run 26.2 miles, and, when the going got really tough around the 22 mile mark, I really thought hard about what I was fundraising for. This, coupled with the amazing support of the crowds in London on the day, ensured I got round in a respectable time of 4 hours 23 minutes.
Michael Webster, owner of Harrogate-based SIGN-A-RAMA, also outlined the positive aspects of supporting Henshaws and the audience was given a first-hand insight from students into how much they enjoy and learn from work experience placements with local employers.
Places are available through Henshaws for this year's Great North Run on September 16 2012. For more information about supporting Henshaws through work placements or via the Great North Run, please call the team on 01423 886451.