Her Majesty's Lord Lieutenant of North Yorkshire, The Lord Crathorne, unveiled the 'Royal Crown' on Harrogate's Royal Parade at noon today (28 May 2012).
Harrogate in Bloom working in partnership with Harrogate Borough Council commissioned the piece of permanent art work to be placed in a horticultural setting to celebrate the Queen's Diamond Jubilee.
Although Harrogate in Bloom and Harrogate Borough Council made financial contributions, this project has only been made possible through generous public subscription from a number of local companies, organisations and individuals.
Bettys & Taylors Group Limited
Colton Signs; Bob Cowell
Crown Hotel, Harrogate; Christine Dean
Feather Smailes Scales; Friends of RHS Harlow Carr
Jean Hall; Jennifer and Timothy Hall
Harrogate in Bloom; Harrogate Borough Council
Harrogate Chamber of Trade and Commerce
Harrogate Flower Shows
Mike Hine
Hornbeam Park Developments Limited
Ann Kent; Martin Mackintosh Charitable Trust
Val Michie; Royal Signals Association
Rudding Park
Soroptimist International of Harrogate and District
Peter and Margaret Staples
T&R Theakston Limited
Tennants Auctioneers
Waitrose – Harrogate
Yorkshire Agricultural Society
The 'Royal Crown' has been placed on the roundabout at the junction of Royal Parade which is now being called the 'Diamond Jubilee Roundabout'.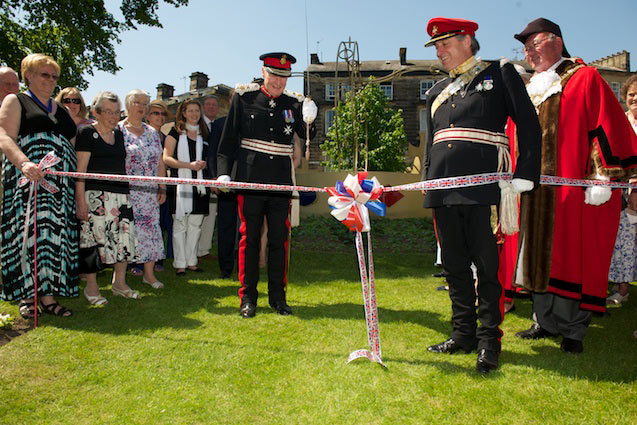 Her Majesty's Lord Lieutenant of North Yorkshire, The Lord Crathorne, unveiled the 'Royal Crown' on Harrogate's Royal Parade
Mrs Pam Grant, President of Harrogate in Bloom and Councillor Pat Jones, the council's Cabinet Member for Cultural Services, have both expressed their sincere thanks to those who have contributed financially or by offering to carry out some of the work at no cost. They added: "We have even been given a handsome piece of Yorkshire stone that will form the backdrop to a plaque which lists all those who have contributed so that their generosity is publicly recognised.
Councillor Pat Jones said:

We hope many people will get pleasure from the 'Royal Crown'. It will be planted out by the council's parks staff who this year have a colour theme of red, white and blue to celebrate both the Jubilee and the London Olympics. We also hope to impress the Britain in Bloom judges this summer not just in terms of the planting but also by being able to demonstrate that this was a community effort which is part of the judging criteria.
The 'Royal Crown' was created by Chiltondale Architectural Wrought Ironsmiths of Summerbridge.