Work on the new road layout at the Bond End junctions in Knaresborough begins on Monday, 10 September 2018.
The current traffic signals will be turned off on Sunday night in preparation for the work.
The two junctions were identified as part of Harrogate Borough Council's Air Quality Action Plan in 2013. The annual target level for nitrogen dioxide, which mostly comes from traffic pollution, had been exceeded and a key action was to improve the junctions to address the issue of queuing traffic.
North Yorkshire County Council approved plans earlier this year to replace the traffic lights at the two junctions with two mini roundabouts and put in four new zebra crossings. Work is scheduled to last for nine weeks.
Click on image for larger version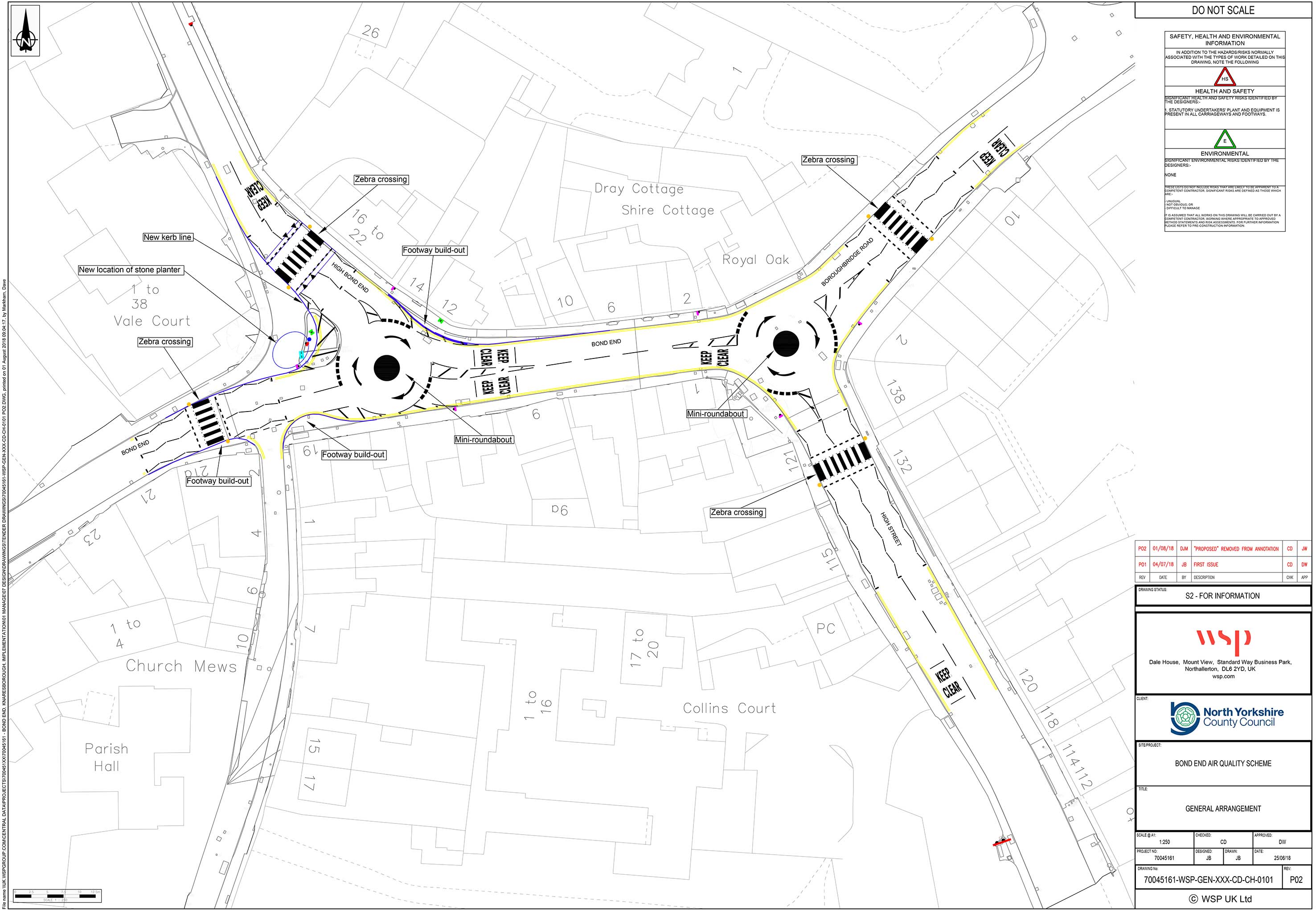 As these junctions are very busy, the work will have an adverse impact on traffic flow at certain times and regular users are urged to bear this in mind when planning journeys and if possible seek alternative routes. The scheme is part of a £5.1m programme funded from the Government's National Productivity Investment Fund to improve local roads and public transport.
County Councillor Don Mackenzie, executive member for highways, said:

This important work is about to start and is aimed at reducing the number of queuing vehicles and idling engines, which are a major cause of air quality problems. The new traffic arrangements target improved air quality for residents and users of the junctions.

We will, of course, do everything we can to minimise disruption during construction and would like to thank everyone in advance for their patience.
County Councillor Zoe Metcalfe, member for Knaresborough and chair of the Bond End Steering Group, which represents the county, borough and town councils, said:

The steering group and officers have worked very hard to make this project happen and we are pleased to be in a position to start the work on 10 September.
Up to date information on the progress of the work once it starts will be available at www.northyorks.gov.uk/bond-end-junction-improvements