Lucy Tiffany and Angela Lloyd Roberts, both from Harrogate, were given the accolades by Carers' Resource, a local charity that supports unpaid carers.
A carer is anyone who, without payment, provides help and support to a friend, neighbour or relative who could not otherwise manage because of frailty, illness or disability.
Knitter Award winners Lucy and Angela have been involved with the charity's Easter knitted chick and Christmas decoration initiatives for nearly 10 years. Sales of the gifts in the past year have raised £3,633 – the best year yet – taking all the knitters' total fundraising to £23,000.
Lucy and Angela also run a Pins N Needles group at the Carers' Resource office in Harrogate. The monthly session gives carers the chance to take part in craft activities and be creative while having a break from caring.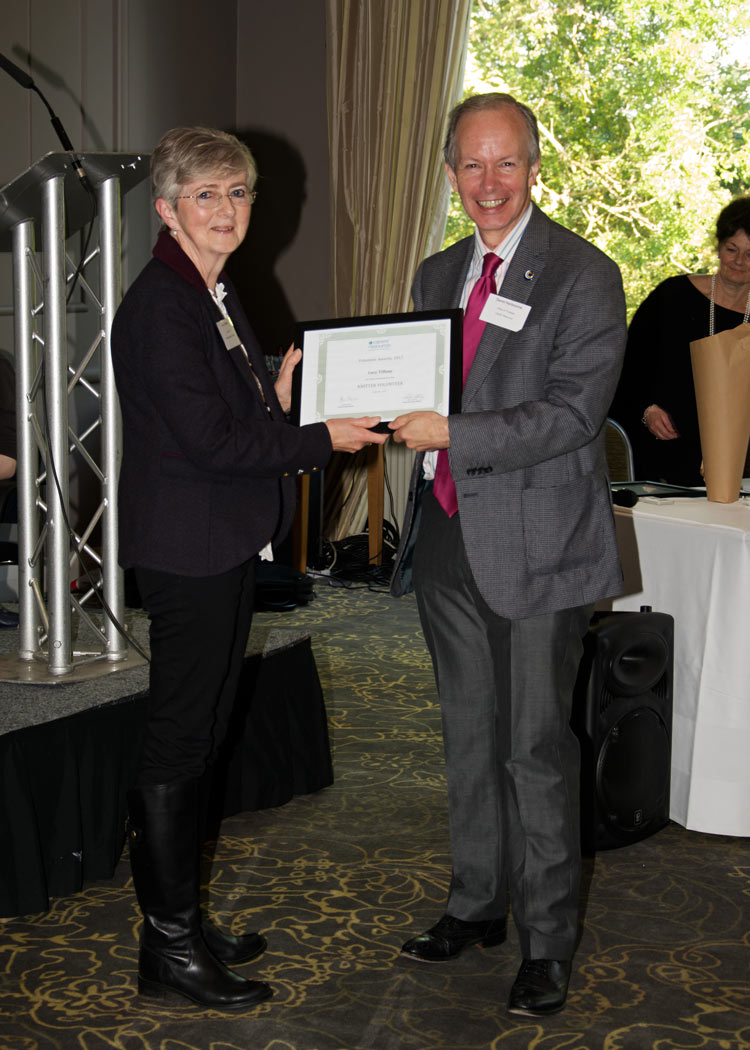 Lucy and Angela also help at Carers' Resource's lunch club Dales Diners; on reception at its office; with Time Out for Tea parties; and with Christmas card sales.
Carers' Resource launched this year's knitted Christmas decoration and card sales at its conference, which was at the Mercure Bradford hotel, in Bingley. The decorations, which are £2 each, and the cards, which are £2 for a pack of 10, are on sale in the charity's offices or via staff.
The charity's chief executive Chris Whiley said:

We are so grateful to all of our wonderful volunteers. They help us across the whole area we cover – Bradford district, Harrogate district, Craven and Airedale – carrying out all sorts of tasks from admin to sitting with cared-for people so carers can have a break.

We have Investing In Volunteers, which is the UK quality standard for good practice in volunteer management, so anyone who volunteers with us knows we will train them properly and use their skills wisely.
Other winning volunteers, who were not present at the conference, included 17-year-old young carer volunteer Harry Beaton, telephone support volunteer Chris Baugh, and most cheerful volunteer Mike Emsley.
For more information about Carers' Resource groups and activities, or to volunteer, visit www.carersresource.org or follow the charity on Facebook and Twitter.